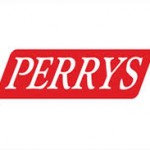 Perrys have been nominated for Best Use of Video and Best Automotive Campaign at The 2015 Drum Awards for the Digital Industries – known as the DADI Awards.
After the group's successes in the past 12 months at numerous automotive industry award ceremonies, Perrys have been recognised by The Drum for the Perrys.co.uk website and their innovative video strategy.
The judges said Perrys stood out among the nominees, and are the only in-house team to make the shortlist for both categories. They are the only automotive brand in the entire Use of Video Award category, and will be up against some of the world's biggest digital agencies that represent major brands such as Topman, YouTube, The National Lottery, Gillette and Samsung.

In the Best Automotive Campaign Award, Perrys are the only dealer group in a category full of manufacturers including Mercedes-Benz, Jaguar, Audi UK, Fiat, Renault and Citroen.
Lee Manning, Perrys' digital marketing manager, said: 'It is fantastic to be nominated for such a prestigious industry awards event. To be up against some of the largest brands in the world is a brilliant achievement, showing just how far Perrys has grown in the past 12 months.
'Our video content is integral to our digital marketing strategy, where we aim to give our users the most helpful and trustworthy experience throughout their entire car-buying process.
'We've not only worked hard on our website to provide our customers with a better user experience online, but to also enhance their journey from online to offline.

'All our dealership staff have been key to achieving this and have been fantastic in supporting the digital changes we've made.'
Perrys were a double winner at the Car Dealer Used Car Awards, taking top spot in the best use of social media award as well as the best used-car dealership group.
MORE: Burglars raid dealership – right next to a police station…
MORE: Dealers facing 'imminent HMRC crackdown' over demonstrators
MORE: Mazda is heading for another record year
MORE: New six-month sales record for Audi
MORE: Porsche announces record half-year figures
MORE: VW overtakes Toyota to become the world's biggest selling car manufacturer
On superunleaded.com – Martin Brundle's F1 Scalextric Track Is Very Cool, Massive