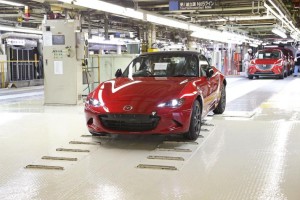 MAZDA has become the latest manufacturer to post glowing revenue figures – and is predicting its third record year in a row.
The Japan-based carmaker reported 6.01 billion euro in revenue for April to June, up 14 per cent year on year, with operating profits of 398 million euro.
Global sales volume also reflected the positive trend, growing during the quarter by 16 per cent to 370,000 – a 15-year high – on the strength of new models like the Mazda CX-3, which has seen strong initial demand in Japan, Australia and Germany.

The new Mazda 2, the Mazda 6 and Mazda CX-5 have also sold briskly, as has the new-generation Mazda MX-5 in its first month on the market in Japan. The MX-5 will be on sale in the UK in August. 
In Europe, sales of Mazdas rose 11 per cent to 49,000 in the three-month period on the strength of robust demand in places like the UK, with a 20 per cent hike.
In Japan turnover increased by 44 per cent for the three months, with China (plus 31 per cent) posting a record first quarter and Australia (plus 17 per cent) raising Mazda's market share to 9.4 per cent.
Mazda expects to sell 1.49 million vehicles during the current fiscal year, which ends in March 2016, a seven per cent year-on-year increase. Its full-year forecast of a third-consecutive record operating profit of 1.62 billion euro on revenue of 25 billion euro remains unchanged.

MORE: New six-month sales record for Audi
MORE: Porsche announces record half-year figures
MORE: VW overtakes Toyota to become the world's biggest selling car manufacturer
On superunleaded.com – Clarkson, May and Hammond Go To Amazon, Again