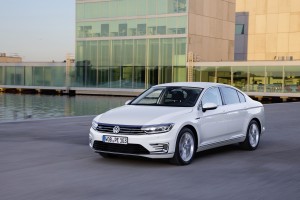 VOLKSWAGEN became the biggest selling vehicle manufacturer in the world in the first half of this year, in a development that saw it overtaking Toyota for the first time.
Between January and June, VW managed to sell a total of 5.04 million vehicles – while Toyota sold 5.02 million.
Interestingly, however, the overall sales for both manufacturers were down for the period year-on-year. Toyota's figures declined by 1.5 per cent; while VW sales fell by a smaller margin, 0.5 per cent.

It has been Volkswagen's long-held ambition to sell more vehicles than Toyota and the German company has managed to do that before the deadline it set itself of 2018.
Much of VW's success has reportedly come from progress it has made in China, a market that now accounts for a third of its business, but where trading conditions have become tougher lately.
It has also been doing well closer to home. The brand delivered 891,200 vehicles in the overall European market in the first six months of 2015 – a rise of 3.1 per cent on last year's six-month figure of 864,200.
And SMMT stats for June showed that VW sales figures in the UK were up 27 per cent when compared to the same month last year. Sister brands Skoda and Porsche also enjoyed double-digit increases, with Audi up almost four per cent and Seat showing a slight decline.

General Motors was top of the global sales league for more than 70 years but Toyota overtook the company seven years ago.
GM regained the top spot in 2011, with Toyota snatching it back a year later.
Stefan Bratzel, head of Germany's Center of Automotive Management, told BBC News: 'VW is snatching the sales crown in difficult times with major car markets in decline.'
MORE: Motors.co.uk extends its network – and hopes to reach younger drivers
MORE: Staffordshire dealership expands with record-breaking Kia
MORE: Auto Trader – where car dealers get it wrong – and get it right
On SuperUnleaded.com: Nice car, shame about the driver