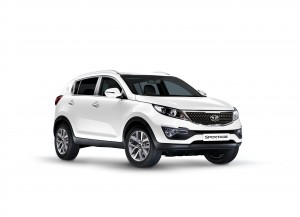 A STAFFORDSHIRE car dealership is planning a move to a new showroom – and is expanding by adding the Kia franchise to its operation.
Fiat-Chrysler outlet Platts Garage, which operates in Stoke-on-Trent and Stafford, is moving its Stafford business to a different building, a former Land Rover showroom in Astonfields Road.
It will start selling Kia cars there in a few weeks' time before they are joined by vehicles from the Fiat-Chrysler family, which are currently being sold from Platts' showroom in Tollgate Drive about a mile-and-a-half away.

Company director Alex Platt told Car Dealer: 'We're a family firm established in 1938 in the Longton area of Stoke. About four-and-a-half years ago, we opened a Fiat dealership in Stafford and in December we approached Kia about an open point they had in the area.
'It just seemed like a perfect fit for what we were trying to do – adding an additional franchise to our range and diversifying what we can offer people.
'There are two dealerships at the Astonfields Road site so straight away we'll go in with Kia – and then relocate our Fiat site there later.
'We've got quite a bit of work to do on the site. Everything is fine structurally but we're going to go through the place and give it the appropriate corporate identity and get it up to where it needs to be with Kia's aspirations for the brand and ours as a dealership.

Recruitment drive
'Joining the Kia network fits in well with what we are trying to achieve as a company. We're hoping to sell Kia cars there from mid-August – hopefully that will give us a head start and we'll be able to have a good September.
'The work will have been completed by mid-October for the Kia site and we'll look to develop the Fiat side thereafter.'
Platt explained that the company was currently in the middle of a recruitment drive to tie in with its expansion plans. As well as the exciting developments in Stafford, the firm is looking to expand its fleet operation in Stoke, offering a service to local businesses.
By the time everything is in place, the payroll will have grown from just under 80 people to almost 100.
Asked if he thought it was a good time to be joining the Kia network, Platt replied: '100 per cent. It's a really, really exciting prospect for us. It will get us into a different customer base and will allow us to have lots of different product to be able to sell.
'Stafford as an area has been lacking a Kia dealership. The move will be very good for us and we want to progress.'
Latest figures from the SMMT showed that the UK arm of Kia set further new sales records in June to deliver its best ever sales performance for that month and also saw its year-to-date sales total reach a new high. Kia's best-selling car in June was Sportage (pictured), with almost 2,300 delivered to buyers.
MORE: Auto Trader: Where car dealers get it wrong – and get it right
MORE: Aftermarket unites to fight government's four-year MoT proposal
On SuperUnleaded.com: It looked easier in Blues Brothers – driver jumps drawbridge, fails