DEALERS have often complained that their forecourts are a common target for thieves. So if you have a dealership, you'd have thought the ideal site is right next to a police station.
Apparently not.
Burglars waited until the early hours before breaking into Five Star of Formby dealership and stealing four cars worth £26,000, as well as the keys to another 20 vehicles.

And the dealership's neighbour is the Formby police station. This image from Google Maps shows just how close they are…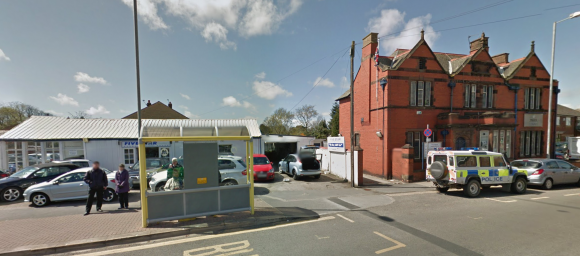 But that certainly didn't put off the burglars. They also strolled across the road and raided the newsagents opposite, too.
 The four cars taken were:
A black Mercedes C180 (KR55 CKE),
A black Land Rover Discovery (FH54 YCK),
A silver BMW 5 Series (BD61 HWF), and
A silver Audi TT (Y611 KDM).
The police station was closed at the time, but patrol cars parked outside at all hours of the day and night.

Owner Alan Gabrielson told the Liverpool Echo it would cost about £2,000 to change the locks on the 20 cars. The thieves also took 'a beautiful framed photograph of Everton captain Phil Jagielka,' he said.
He said he didn't believe the cars would be sold. 'Our fear is the cars are bound for a chop shop to be sold on as parts,' he said.
Police said an investigation was under way.
A police spokesman told the Echo: "It is believed the vehicles were taken sometime between 6.30pm on Wednesday, July 29 and 8.50am on Thursday, July 30. An investigation into the matter is on-going and a forensic examination of the scene has taken place. CCTV opportunities are being explored.'
MORE: Dealers facing 'imminent HMRC crackdown' over demonstrators
MORE: Mazda is heading for another record year
MORE: New six-month sales record for Audi
MORE: Porsche announces record half-year figures
MORE: VW overtakes Toyota to become the world's biggest selling car manufacturer
On superunleaded.com – Martin Brundle's F1 Scalextric Track Is Very Cool, Massive