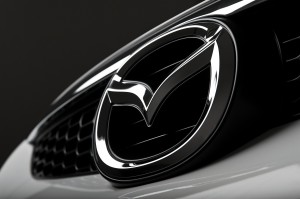 JAPANESE manufacturer Mazda has been revamping its dealerships across Europe to match the sharp lines of its current model range, reports Chris Lloyd from the LA Motor Show.
The manufacturer's European president and CEO, Jeff Guyton, expects that by the end of 2015, around 80 per cent of European dealers will have adopted the new look and style of showroom.
Key to the revamp is a more natural appearance, which features lots of wood and blends in a more technical exterior design to reflect Mazda's history as an engineering company.

While dealership updates may be an extra expense for retailers, Guyton says: 'What we've tried to do is make it relatively easy and, we think, quite cost-effective.'
The response from the first pilot dealership shows an increased closing rate and better retained margins too, the Mazda boss adds.
We're told that changes to showrooms will include 'a much greater focus on digital tools in the showroom in terms of demonstrating product features'. Also set to change is the customer experience. Guyton told us: 'What we're trying to do is give people a different feeling and be positively surprised by the passion of the network for the Mazda brand.'
The aim of this shift in culture is to focus on how customers feel: 'The intention is to get our dealers and our employees to think in reverse, which is to say: ''What experience do I want this individual to have of my brand? Now how do I need to act to deliver that?'' '

Mazda, however, is not planning to be prescriptive about how this is achieved by telling dealers to offer every customer a coffee or to recharge their phone, for instance.
'We'll leave it up to the retailer to figure out what it is for that customer that makes it positively surprising and an engaging experience.'
On the cusp of a sales boom
'LAST IN, best dressed.' This is how Mazda's European president and CEO, Jeff Guyton, describes the latest entrant to the small off-roader market, the new Mazda CX-3.
Along with the new 2 supermini, the CX-3 is set to be a big hit, claims Guyton, with dealers on the cusp of rapidly increasing sales: 'Dealer profits clearly are increasing around Europe and we see in the year coming up quite a big opportunity to increase throughput in the UK with Mazda 2 and CX-3.'
With several new and updated models in the pipeline, what this means is that in a year's time the recently-released Mazda 3 will be the oldest model in the range. 'That gives a great opportunity to see better margins on renewed cars and also hopefully a lot of trade-in business that can make some money with the used cars as well,' adds Guyton.
However, with so many updates to the Mazda range on the cards, getting the training and marketing ready for these upcoming models is crucial to their success, he states.
As to whether dealers can keep up with the pace of change, Guyton responds: 'I think they can. We're going to put quite an effort behind training and education this year. There's no doubt it will be a tough year in that respect to keep up with that change.'
MORE: An open letter to a yob from a cheesed-off Mazda 6 Tourer
MORE: Auto Influencers: It's going to be a pretty good 2015
MORE: Jennings Motor Group helps Salvation Army Christmas appeal