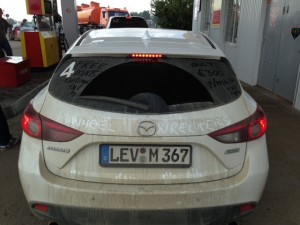 MAZDA MD Jeremy Thomson and two members of the manufacturer's dealer forum are currently crossing deepest darkest Russia – and Car Dealer Magazine is along for the ride!
As part of the launch of the new 3 hatchback, the firm is driving the first eight models off the production line in Hiroshima an incredible 15,000km across Russia to the Frankfurt Motor Show.
Thomson has been joined by Danny Sacco of Landsdown Mazda, in Bath, and Neil Perrin of RRG Group, which runs Mazda dealers in Stockport, Rochdale and Manchester.

Today is the third of the trip, which has seen the team cover some 1,400 miles crossing some of Siberia's most challenging terrain. Over the past 72 hours the participants have endured some of worst food imaginable, hotels that make Blackpool's worst look like The Ritz and roads that would trouble a 4×4, let alone a Japanese firm's brand new hatchback.
The punishing adventure has tested the new 3 to its limits – and, at times, beyond. Earlier today (we're nine hours ahead), Thomson and his team clattered into one of the larger potholes we've endured and squared off both the front and rear passenger side wheels.
'It was a huge, sharp jolt and a bang,' explained Perrin, at the side of the road as we travelled towards our final stop in Ulan Ude. 'We came around a corner at around 100kph and both wheels clattered into a huge pothole.'
Once Mazda's support team had removed the two wheels the damage was clear to see – both front and back rims had been squared off nicely. We won't point fingers at the culprit as that would just be mean, wouldn't it Neil…

Thomson joked: 'You see what I have to put up with, travelling with our network – I've put my life in their hands!'
The trio have been travelling together for the duration of the journey and are clearly having a lot of fun. Despite Thomson spending a sweaty sleepless night in what was effectively a sauna (hotel room without windows that he attempted to cool by opening a fridge door), he's still smiling. Likewise his dealer colleagues who, despite surviving on what can only be described as gruel, are both still cracking jokes.
Sacco – father of rugby player Oliver Sacco and Malta's national rugby coach – added: 'I am amazed with what these 3s have put up with. The roads have been so punishing, in fact it's hard to class some of the surfaces we've encountered as roads.
'The suspension has coped amazingly well. Considering there are eight other cars here it's impressive we've had so little drama.'
Thomson explained Sacco and Perrin were picked for this trip as they're dealer council members are great advocates for the brand – we think it helps they've got great senses of humour too…
The Mazda 3 trip continues into September, but our week-long leg finishes tonight in Ulan Ude, some 2,400km from where we set off on Wednesday in Blagoveshchensk.
Car Dealer will bring you a full report on the trip, and more from the trio, in a Mazda special issue coming soon.
Download the FREE Car Dealer iPad app now