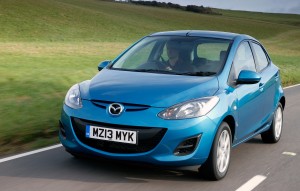 'WE'VE done electric, but we choose not to pursue it,' Mazda UK sales director, Peter Allibon, has told Car Dealer.
After producing the fully electric Mazda 2 'Demio EV', which was leased to local government bodies and fleet customers in Japan last year, new car buyers never hot the chance to buy one.
'Will Mazda venture into the electric sector? It's a good question. But it's important to remember that we did build an electric Mazda 2, we just chose not to produce it,' Allibon explained. 'We have proved we can be competitive in that segment but as a brand, we still see, and research still shows, that there is life left in the internal combustion engine.'

Allibon says that while Mazda's aim is to produce products for the global industry and ultimately produce cars that will sell in volume, the manufacturer sees no need to invest in electric-powered vehicles as the market isn't there yet.
'The number of cars we order in from Japan is entirely based upon customer and dealer demand and we believe this will increase,' said Allibon. 'However, when looking at the EV sector, there currently isn't enough global demand due to range anxiety and infrastructure.'
He adds: 'Our task is to make the internal combustion engine more fuel efficient by experimenting with compression ratios and reducing weight.
'We have already achieved this with the introduction of SKYACTIV and the view is that by 2020, electric cars will still make up a very small portion of the global market, while the combustion engine will still be large.'