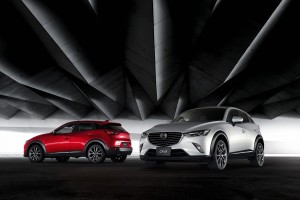 FOLLOWING the success of compact crossovers such as the Nissan Juke, Mazda wants to get in on the action, with its new small off-roader, the CX-3, which it unveiled at a special preview event in Los Angeles, last night.
Slotting into the Mazda range below the popular CX-5 off-roader and based on the 2 supermini, this new Mazda enters one of the fastest-growing parts of the car market and is on display at the Los Angeles motor show, which is open to the public from November 21 to 30.
In its armoury, the CX-3 will feature the sharp 'Kodo' lines that now characterise Mazda's range, a stylish interior and the option of front and all-wheel drive.

Three engines will be on offer – two 2.0-litre petrol units and a 1.5-litre diesel. All models feature six-speed gearboxes and a six-speed automatic will also join the range.
The new model will be launched in spring 2015 and should boast an impressive blend of economy and performance, becoming the fifth Mazda to feature the company's 'SKYACTIV' fuel-saving technologies. The car will also feature Mazda's latest all-wheel drive system, for added traction on slippery surfaces.
The CX-3 will additionally benefit from a range of new 'i-ACTIVSENSE' safety kit, along with a lightweight but stiff body construction. In-car entertainment will be taken care of with Mazda's MZD-Connect in-car media system.
Also on show at Mazda's stand at the LA motor show are the new MX-5 roadster and updated versions of the 6 and CX-5 off-roader.

Chris Lloyd
MORE: Are plug-in hybrids 'a bit of a game'?
MORE: Hyundai Genesis trial will be rolling out in 2015