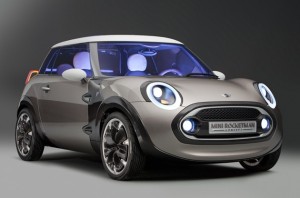 MINI's expanding range could grow further still, Car Dealer understands, with Mini keen to produce a smaller vehicle for its range.
Speaking to us at the recent launch for the Paceman – a three-door high riding coupe – Mini UK's product and planning manager Dave Tuckett revealed that the firm still hasn't ruled out putting the 'Rocketman' concept into production.
'We haven't ruled it out,' Tuckett told us. 'It's something that we'd like to do, but it's something that needs quite a lot of investigation.'

The Rocketman concept, unveiled at last year's Geneva Motor Show, is the smallest 'new' Mini shown so far – sitting below the standard hatch in the range, and giving Mini traditionalists a smaller mode to coo over.
The lack of a Rocketman sized model in the line-up so far, suggests Tuckett, comes down to the difficulty of the segment in which it sits.
'The A-segment is an extremely busy marketplace, and it's absolutely filled with small, cheap cars,' he said.
Competing in such a market is extremely difficult for a premium brand such as Mini, and it's this hurdle that Tuckett suggests is the real difficulty for the firm.

'It's a very price-sensitive segment, and that's the difficult bit. Certainly there's a case to be made for going for volume-based sales, but then that's not really what the Mini brand is about.'
Rocketman aside, more models could well be on the way for the firm in other shapes and sizes too. The upcoming introduction of a shared platform with owner BMW is likely to help expansion, with Minis and small BMWs being able to share development costs.