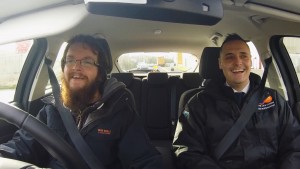 MOTORPOINT is set to feature again in a major primetime show on ITV.
The UK's leading car supermarket starred in the first of a two-part documentary earlier this year, called Bargain Fever Britain, which examined the insatiable appetite for deals, discounts and bargains among modern consumers. More than five million people watched the programme.
The second episode of Bargain Fever Britain is now scheduled to be aired on ITV1 tonight between 8 and 9pm, with a repeat on Sunday, August 30 at 10.40pm.

The ITV cameras spent several months behind the scenes at the Newport branch of Motorpoint, finding out more about life at the UK's leading car supermarket and how the team based next to the Newport Retail Park sell close to 500 cars a month under the watchful eye of general manager Russell Louth.
They also spoke with some of the savvy shoppers who visited Motorpoint to save as much as £10,000 off their next car. Also featured in the programme will be Costco, Shoe Zone and Approved Foods.
Mark Carpenter, managing director of Motorpoint, said: 'We can't wait for the second instalment of Bargain Fever Britain. Motorpoint is a truly unique company and it will be fantastic to see it featured again on prime time TV.'
Motorpoint has been instrumental in revolutionising the way in which the British public has bought cars since the late 1990s. Last year, it sold a new or nearly-new low-mileage car every four minutes across its eight sites.

If you miss the programme, you'll also be able to watch it via ITV Player after the broadcast.
In our picture, Motorpoint salesman Kyle Smith, right, takes a customer on a test-drive during the second episode of ITV's Bargain Fever Britain.
MORE: Have you been affected by MOT meltdown?
MORE: Revealed: The most-searched-for cars online across Europe
MORE: Victims of keyless car thefts 'should sue'
On SuperUnleaded.com: Want to buy Steve Jobs' BMW 3 Series?