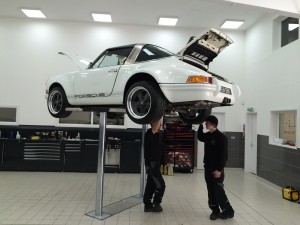 THOUSANDS of garages across the UK have been left unable to issue valid MOT certificates because of glitches in a new multi-million-pound Government computer system.
Garage owners across Britain have complained that the new online system has failed in recent days, with drivers having to be turned away because it isn't working properly.
According to reports, first it crashed completely and then it started to run slowly – with another consequence being that drivers are being left without a valid MOT certificate, meaning their cars shouldn't be on the road.
A 'technical issue' has been blamed for the chaos.
The new way of working means that the details of cars that have passed their annual MOT test are entered into a database. Once the information has been entered, police can scan a car's registration plate and instantly know if it is covered by a valid MOT.
The problems have become so serious that garages have even been asked by officials to issue old-style certificates to drivers for the time being. They can then be produced in the event that they are stopped by police.
The DVSA has admitted there are 'issues' affecting some of the several thousand testing stations that have moved over to the new system.
A spokesman told the Daily Mail that they were aware of issues and admitted that some garages were having problems.
Richard James, who runs DHM Services in Merthyr Tydfil, said the system hadn't worked properly since its introduction. He told the Mail: 'It's in meltdown. They clearly didn't test it properly before it went live and it couldn't cope.'
Commenting in the Car Dealer forum, contributor S&B said: 'My MOT station had to stop testing last week due to failure of the system.' And Gavin@Rousdon said: 'Yes it keeps going down, seems the server can't cope with the demand.'
Are you among those having problems? Check out the official advice from the Government here.
And add your voice to those discussing the issue in our forum.
MORE: Revealed: The most-searched-for cars online across Europe
MORE: Victims of keyless car thefts should sue, says Mr Loophole
MORE: New Caterham distributor appointed in Dubai
On SuperUnleaded.com: Tracked Subaru Impreza impresses on powder