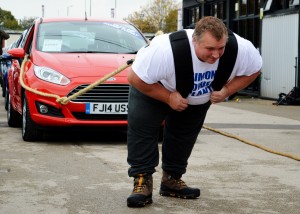 STRONGMAN Simon Plant has smashed the world record for towing chained-together cars – with a little help from car supermarket Motorpoint.
The group's Derby dealership appeared on The One Show last night and BBC Radio after joining forces with the 42-year-old builder in his bid to pull 14 cars over a distance of 15 feet at the company's headquarters in Derby in aid of Macmillan Cancer Support. Simon featured on the popular TV show to talk about his achievement.
And he certainly didn't disappoint, pulling 14 Ford Fiestas with a combined weight of almost 16 tonnes over a distance of 18 feet and six inches on the third attempt. The previous record for towing chained-together cars was 12 over a distance of 15 feet. Simon hopes to eventually raise several thousand pounds for Macmillan Cancer Support through his efforts.

He said: 'I'm thrilled to have done it. It was a really tough challenge but thankfully it was a case of third time lucky. I couldn't be happier.'
Simon is no stranger to such challenges. He held a world record 11 years ago for pulling a 28-tonne lorry over 100 feet and has competed nationally and internationally at numerous 'strong man' events. He is currently planning other world record attempts for 2015, including pulling a plane along the runway at East Midlands Airport.
Satvir Atwal, general manager at Motorpoint Derby, added: 'We are absolutely honoured to have helped power Simon's world record attempt. We have nothing but admiration for what he has achieved.'
MORE: Motorpoint helps builder Simon in his world record attempt

MORE: The Top 100 Most Influential Dealers on Twitter: Could it be you?