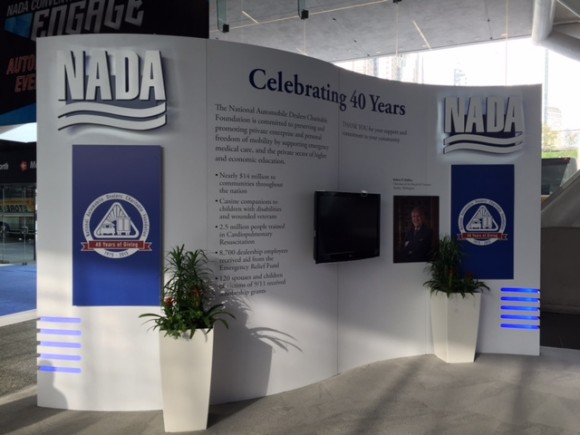 The NADA Convention and Expo has drawn to a close here in San Francisco – and the Car Dealer team has picked up a whole load of ideas.
We've heard from some inspirational speakers, learned about some cool new products and services for dealers, and picked up a whole host of ideas for our event.
We'll be hosting the Car Dealer Conference & Automotive Expo on June 9 at Silverstone and plan to pull together an inspiring and educational programme for dealers on home turf.

We've already lined up the MD of Renault Dacia, Ken Ramirez, to give a key note speech alongside Scott Sinclair from Google, but we're planning much more.
We will be hosting a series of educational workshops with key partners on the day – covering topics YOU want to learn more about – and we're working on a very special headline speaker.
The Expo area will also be packed with exhibitor stands so you can learn about the services they offer, hear about their new products and pick up the odd show special.
The UK automotive industry is crying out for a NADA-style event in the UK and we'll be working very hard to make our event as relevant and as packed with must-see content as we can. I for one am very excited about it indeed.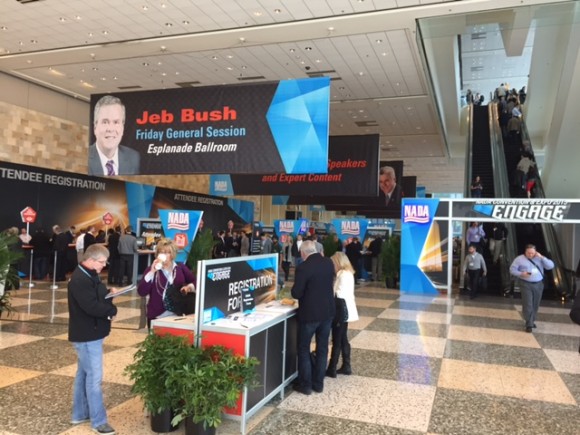 NADA
If you've missed our coverage over the last few days you will be able to read about all the workshops and speakers we caught here in San Fran in the next issue of the magazine.
We've heard from automotive executives from Facebook and Twitter about how car dealers can make use of their social networks to target consumers.
We caught Jay Leno's stand up routine which entertained the masses of dealers here who had just welcomed the new chairman of the NADA, Bill Fox, to the stage. I managed to interview the outgoing chairman, Forrest McConnell, for a piece in the next issue too.
In one session, advertising agency boss Erik Radle revealed how Russian cyber companies are targeting car dealers' pay-per-click advertising campaigns and depleting their budgets for rivals – and explained how you can stop it.
While we were amazed at the size and diversity of the Expo halls. We've walked several miles around all of the stands, telling most all about our magazine and our upcoming conference, and we've had nothing but positive feedback.
I've also been impressed by how many UK dealers and suppliers have made the trip out here – the amount of English accents on the escalators gives things away. We've met several of the big players in the halls as we've been walking around which just tells me that there really is an appetite for a UK-based event.
I've been saving all the juicy content for the review of the NADA Convention in the magazine which I've been busy typing up most evenings. I'm sure you'll enjoy reading all about it.
By then we'll have lined up even more for the Car Dealer Conference & Automotive Expo so make sure you don't miss it.
Registration for your event on June 9 at Silverstone is open now and you can sign up by following this link. And the best bit, tickets for dealers and manufacturers are absolutely free.
If you'd like to hear how you can exhibit at our event please don't hesitate to get in touch – you can tweet me @CarDealerEd or email me using details on the About Us page on this website. I look forward to telling you all about it.
MORE FROM #NADA2015
Sign up to the Car Dealer Conference – at Silverstone, June 9 – to learn tips like this on home turf
#NADA2015: Twitter and Facebook's top tips for car dealers
#NADA2015: Learning lessons from the NADA workshops
#NADA2015: Advertising expert warns Russian hackers are targeting car dealers' PPC spend
#NADA2015: We land in States and reveal details of the Car Dealer Conference & Automotive Expo
#NADA2015: We gather some facts and figures from the workshop sessions