LOOKERS' Kia and Fiat dealerships in Stockport, Greater Manchester, have moved to a new home.
The showrooms formerly at at Stockport Motor Village have relocated to a shared site half a mile away.
Having served the local community since 1997, the two businesses have well-established connections across their corporate and consumer client bases and will continue to provide first-class service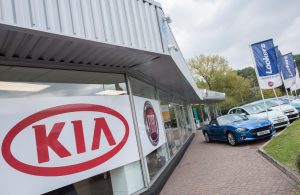 from their new HQ at the town's Riverside Development.

General manager Sam Stobie said: 'Our new showroom will continue to provide Stockport and the surrounding area with the full service provision of a Lookers facility including sales, servicing and parts, all under one roof.
'Lookers' new showroom at Riverside will provide first-class customer care, and, while only a very short distance from our original home, immediate accessibility from one of the city's primary thoroughfares.'
Lookers has confirmed that in addition to the relocation of its Kia and Fiat showrooms, there are plans in place regarding the expansion of its other businesses at Stockport Motor Village in St Mary's Way.
Meanwhile, the Riverside Development, which already had Volvo and Jaguar showrooms before Kia and Fiat arrived, continues to go from strength to strength.

Stobie added: 'Our friendly and committed sales team are looking forward to welcoming customers to the Riverside premises.'
Lookers continues to grow through acquisition, significant investment in new facilities and the introduction of the latest industry technology as it looks to become the retailer of choice for motorists in the UK.
MORE: Pentagon Lincoln joins the Renault Sport dealer network
MORE: James Baggott: Why Paris should stick to what it's good at
MORE: Technology 'will boost dealer aftersales by £40k in 2017'
On SuperUnleaded.com: Rally Driver Pulls Off An Awesome Drifting Overtake