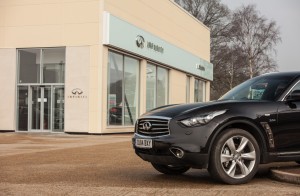 INFINITI will have a new retail outlet in Maidstone, Kent, when the family-owned FG Barnes Group officially opens the doors to its new Infiniti centre later this week.
Starting with a VIP event on Thursday evening and followed by a motorsport-themed weekend, Infiniti Centre Maidstone will be open for everyone to experience for themselves the unique Infiniti Retail environment.
Appropriately, with the Malaysian Grand Prix taking place over the weekend, there will be a Formula One focus to the surroundings with an Infiniti Red Bull Racing Formula One car on show.

Alongside the race car will be a race simulator and a reaction speed test machine giving everyone the opportunity to test their own driving skills, with those recording the fastest times winning some great F1 prizes.
The new British Touring Championship team 'Infiniti Support Our Paras Racing', will make its debut in the season-opening triple-header at the nearby race circuit, Brands Hatch, the following Easter weekend. Exploiting this opportunity, Richard Hawken, one of the team's two drivers, will make a special guest appearance, alongside an Infiniti Q50 BTCC saloon race car, on Saturday March 28 from 1pm until 3pm, to meet fans, answer questions and sign autographs. The race car will remain in the showroom until close to the race weekend.
Any proceeds raised during the weekend will go towards the official charity of The Parachute Regiment, 'Support Our Paras'.
The new centre continues the Infiniti Retail Environment Design Initiative (IREDI) concept with a layout similar to a five-star hotel. From the meet and greet of a hostess when you enter the centre, to the gallery walk-through to see the latest range of Infiniti models and the premium furnishings, everything is designed to give customers a first-class experience.

MORE: Lookers employee on 'Big Drive' to Barcelona
MORE: Want to take part in Car Dealer Power? Our deadline is looming
MORE: Chrysler resources will be put to better use allocated to Jeep
On SuperUnleaded.com: Our favourite moments from TaxTheRich super car videos