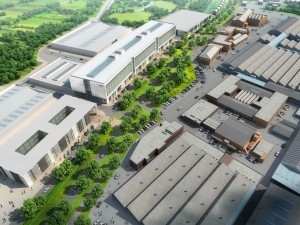 BENTLEY has announced the latest phase in the biggest site development in the company's history.
A £40m investment will expand its headquarters in Crewe, with a new research and development centre, creating more than 300 jobs in the process.
The new centre will include a dedicated styling studio, research and development offices and a technical workshop. The facilities will house 1,300 Bentley engineers and is the latest step in preparing Bentley's infrastructure to bring the world's first ultra-luxury SUV to roads in 2016. Work on the new developments will begin early next year.

In addition, 300 roles have been created, working within engineering, manufacturing, quality, sales and marketing and project management.
Including these latest roles, Bentley has now announced the creation of more than 950 jobs in the past 18 months, during which time the business has produced record sales. Last year, Bentley delivered more cars than ever before, 10,120, and expects to break that figure in 2014.
MORE: James Bond's new Aston Martin
MORE: Goodwood's Festival and Speed and Revival dates announced

MORE: New-car registrations still rising