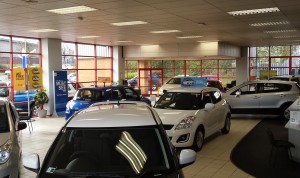 NEW car registration figures rose by eight per cent during November, the latest SMMT figures published today revealed.
A total of 172,327 units were registered during the month, taking the total for the first 11 months of 2014 to 2,310,237.
That figure represents a 9.4 per cent increase on where we were at the same stage last year – and exceeds the full-year total for 2013.

The market continues to exceed expectations amid still-rising consumer confidence, said the SMMT.
Mike Hawes, chief executive of the orgaisation, said: 'Six months after the record was broken for consecutive monthly growth in new car registrations, the market continues to march on.
'Today's figures are an indication of the continuing economic confidence that is driving the new car market, with business, fleet and private registrations all showing strong rises. We expect a more stable market in 2015.
'Demand for ultra-low-emission vehicles is growing strongly, and we welcome the Chancellor's commitment to support the chargepoint network for electric vehicles, as well as ULEV research and development in the UK.'

Best-seller during November was the Ford Fiesta with 7,660 examples registered. Second and third places went to the Volkswagen Golf (5,440) and the Vauxhall Corsa (4,832) respectively. The rest of the top 10 was as follows: fourth, Ford Focus (4,813); fifth, Volkswagen Polo (4,075); sixth, Nissan Qashqai (3,947); seventh, Vauxhall Astra (3,710); eighth, Nissan Juke (3,557); ninth, Audi A3 (3,451); tenth, Mercedes-Benz C-Class (3,336).
In releasing today's figures, the SMMT highlighted two trends in the UK new car market – firstly, that the market for small cars in the mini and supermini segments has grown considerably, supported by lower running costs and advances in comfort and safety levels.
And secondly, it drew attention to the growth in demand for dual-purpose (4x4s and crossovers) and multi-purpose vehicles as buyers seek extra space, style and versatility.
Commenting on today's SMMT figures, Richard Lowe, head of retail and wholesale at Barclays, said: 'Consumers' enthusiasm for new vehicles continues, although we are seeing a degree of seasonal slowdown in demand. This is adding to the pressure on dealers to keep stock moving, so there are likely to be some great deals to be had in the run-up to Christmas.
'December is a short month, but with most manufacturers facing their financial year end the incentives to keep up momentum will remain over the coming weeks.'
MORE: Why dealers should start taking cars to their customers
MORE: Europe's biggest manufacturer showcases manufacturer's new look