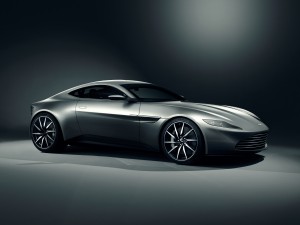 THIS is James Bond's new runaround motor for his latest adventure.
Aston Martin unveiled Bond's stunning new car, the Aston Martin DB10, on the 007 stage at Pinewood Studios.
It scotched reports that Bond was considering ditching his traditional wheels for a Fiat 500 – although as part of the  filming of the new movie, Spectre, will be in Rome, he may well be jumping into a little model.

The DB10 will be a model developed specifically for the film and built in-house by the brand's design and engineering teams. And Bond had better take care of it – only ten will be produced for the film.
Led by Aston Martin chief creative officer Marek Reichman, the design team worked closely with the film's director, Sam Mendes, to create the ultimate car for the world's most famous spy.
Celebrating the great British brand's half century with Bond, which started with the iconic DB5, the DB10 gives a glimpse to the future design direction for the next generation of Aston Martins.
Dr Andy Palmer, CEO of Aston Martin, said: 'In the same year that we celebrate our 50-year relationship with 007, it seems doubly fitting that today we unveiled this wonderful new sports car created especially for James Bond.

'To be partnering once again with EON Productions, producers of the James Bond franchise, is great news for this company and for everyone around the world who loves to see Bond at the wheel of an Aston Martin.
'I'm incredibly proud of everyone in the team at Gaydon who have brought this special project from concept to reality.'
Spectre is due for general release on November 6, 2015.
MORE: New jobs created at Bentley HQ
MORE: New-car registrations rise again