AUDI UK, Arnold Clark and Imperial Cars claimed top recognition at the Auto Trader Click Awards 2016.
Audi UK took the titles of 'best manufacturer for digital customer experience' and 'data-driven retailer of the year' in the manufacturing category, while Arnold Clark was presented with the awards for data-driven retailer of the year and best integrated marketing approach (franchise & supermarket).
The final double winner of the event was Imperial Cars, which collected the digital forecourt of the year award (franchise & supermarket) and data-driven retailer of the year (supermarket).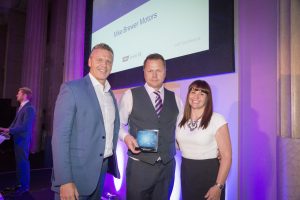 The Auto Trader Click Awards, now in their ninth year, were held at the  Banking Hall in the heart of the City of London and featured categories focused on celebrating data-driven retailing and digitally-integrated marketing strategies.
With 12 awards in total that each recognised excellence in digital automotive retailing among manufacturers, supermarkets and franchised companies, the winners were decided by a combination of consumer research, data analysis and an independent, expert judging panel.
The category of 'best integrated marketing approach' recognised those that successfully implemented a new or existing integrated marketing strategy with positive business impact, with the categories of franchise & supermarkets, manufacturers and independents presented to Arnold Clark, Fiat and Georgesons respectively.
For best digital initiative, entrants showed how they achieved their business objectives by creating a digital campaign or activation that embraced new technology, was truly innovative and achieved return on investment.

The three categories of franchise & supermarket, manufacturers and independents were awarded to Renault Retail, BMW UK and Mike Brewer Motors.
Le-Etta Pearce, Auto Trader sales and service director, said: 'The ninth year of the Click Awards has been another incredible success with many great companies recognised for their accomplishments in the digital automotive industry.
'It has been fascinating to see how retailers are adapting to the changes that digital and consumer trends present and it's great to honour them in front of their peers.'
MORE: Download the 100th issue of Car Dealer to your iPad – for FREE!
MORE: Worcester car dealership helps fundraising rally driver get on the road
MORE: BCA announces full-year results, exceeding market expectations
On SuperUnleaded.com: Rich Kid Pulled Over In Lambo, Abuses Police Officers