ISSUE 100 of Car Dealer Magazine – our biggest yet! – is ready to be downloaded to your iPad FREE of charge – and it's crammed with original content!  
As well as giving you a session-by-session run-down of CDX16, which attracted 2,100 delegates and 100 leading exhibitors from across the UK, we've managed to pack lots of special features into this bumper 186-page edition – all aimed at helping us celebrate our 100th-issue milestone.
Firstly, our very own Andrew Evans put his back into building a Caterham Seven in 100 hours.

Then, we all headed to BCA Blackbushe, Surrey to sell 100 cars in 100 minutes. It was great fun – if a little stressful!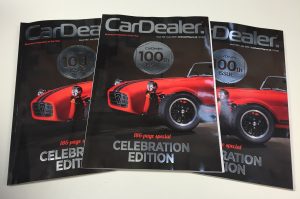 Did we mention that our CEO has embarked on another Trading Up challenge for charity? James is aiming to raise as much money as possible for Great Ormond Street Hospital. Find out how he gets on in issue 100.
So, that leaves us with our showpiece feature – a busy trip to Rockingham Motor Speedway, where we assembled the top 20 favourite cars to sell, as voted for by our readers (that's you lot!)
In fact, issue 100 contains the full list of your 100 favourite cars to sell – and it makes for fascinating reading.

Finally we bring you full coverage of CDX16, including the lively pre-event hosted by Auto Volo the night before; the gripping debates from the Car Dealer Live Stage; the winners of our Top 140 Most Influential Dealers on Twitter and ever-growing Women in the Motor Industry session.
Reaching our 100th issue milestone, James Baggott, CEO of Baize Group, the publishers of Car Dealer, said: 'Looking back to those days creating the first few issues – on my own, in my conservatory – little did I know that those long hours, that hard work and those simple ideas would grow into what it has become today.'
The iPad app is completely FREE to download and subscribe to – get it today!
MORE: Watch us sell 100 cars in 100 minutes at BCA
MORE: Football legend Michael Owen test drives the BMW i8 with Alexanders Prestige
MORE: CarShop CEO to answer your questions on Trade Plates TV tomorrow
On SuperUnleaded.com: From Supermini To Supercar In A Minute, Car Rig Is A CGI Wonder