NISSAN has launched an online reservation system for its new Leaf, with European advance orders now having passed the 10,000 mark.
The new digital ordering system first prompts customer to choose the colour of their Leaf. They can then select whether they're interested in making an outright purchase or buying the car on PCP.
All that's left to do after that is for the customer to enter their contact details and select their nearest dealer, who will get in touch with them to finalise the details of the order.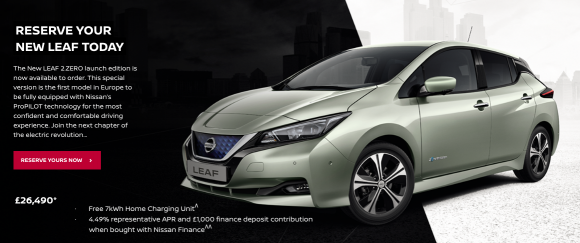 At present, the new Leaf can only be ordered in the special edition 2.Zero specification, which includes e-Pedal, ProPilot, 17-inch alloy wheels, air conditioning, seven-inch touchscreen and Intelligent Around View Monitor. Full range pricing will be announced next month, with deliveries starting in February.
Carl Bayliss, EV category manager at Nissan Motor GB, said: 'Since 2011, the Nissan Leaf has proved that all-electric driving can be both practical and affordable for thousands of UK motorists. The new 2018 Nissan Leaf is the world's most advanced mass-market electric vehicle and an icon of Nissan's Intelligent Mobility vision.
'Now's the time for those ready to make the switch to enjoy all the benefits that an all-electric, zero-emissions vehicle can bring.'
MORE: New Nissan Leaf makes its European debut as limited-edition 2.Zero goes on sale

MORE: More than half of Brits expect to buy an EV in the next five years
MORE: Sunderland production confirmed for new Nissan Leaf
On Workshop: 'Business as usual' at Nissan Sunderland plant after ransomware attack