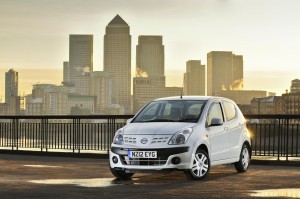 NISSAN dealers will soon be without a city car to sell – with the firm set to axe the Pixo from its range.
The manufacturer's UK boss Jim Wright exclusively revealed to us that the last Pixos are now in the country – and once they're sold there will be no more.
Wright explained that the heavily refreshed Micra will be the manufacturer's entry-level model when it arrives in the summer, the new Note will be the firm's Ford Fiesta B-segment challenger, while Juke will appeal to those after a slightly bigger small car.

'The Pixo will disappear from the range – it's on run out now and we have the last ones in the country,' said Wright.
'Micra fills the B minus slot, Note is in the heart of B segment and Juke is B plus.'
Wright said the changes to the Micra are "dramatic" and that it was the biggest investment in a car mid-way through its life Nissan had ever signed off.
He said: 'Only the middle of the Micra is the same – it's got a whole new front and rear end and the interior is radically changed. We listened to the feedback from customers about the interior and we've acted accordingly.'

Sales of the current Micra haven't got anywhere near the levels that previous generations notched up, which may be one of the reasons for the dramatic updates.
'Our dealers are used to seeing Micra as a 45,000 sales a year model, so the fact we are doing around 13,000 means the perception is it's not performing,' added Wright.
'We've invested a lot of money in this new model and made it more aggressive in styling and more mature. The reaction from our dealer network to the new model has been superb – they're very excited about it, as am I.'
Wright added that an EV version of the new Micra hadn't been ruled out nor had a Nismo performance version, both of which could help the model notch up additional sales.