CAR Dealer Magazine has gained a huge following in its digital format, with more than 6,000 downloads to readers' iPads.
However, in the age of the internet, we're changing to ensure that everyone has easy access to this.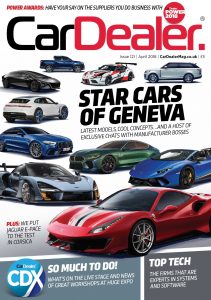 You'll probably have worked it out already, but the iPad edition is only available on… iPads. We're moving all of our back catalogue onto digital magazine reader Issuu. If you've used this before, you'll know that this can be used on all internet browsers, mobiles, tablets and computers by either clicking on the link or downloading the Issuu app.
If you have an account, it's simple to follow Car Dealer Magazine too.
If you do so, every time we upload a new magazine, you'll get a notification on your device!
This does mean that there will be no more magazines uploaded to the current iPad app.
We hope that if you're currently reading this online, you'll join us for what will be the best and easiest-to-read version of Car Dealer Magazine yet!
Editor of Car Dealer Rebecca Chaplin said: 'As a reader of the magazine, you'll have seen in both mine and James's columns that our world is quite Apple-centric.
'If you choose that faction, then you open yourself up to every Android or Windows user telling you that there's something better out there.
'While we're not quite ready to admit that, we accept that there are enough people out there using other software. Making sure as many people as possible can read our work is all we really care about!'
She added: 'If you've ever used Issuu before you'll know how easy reading a magazine on it is. The fact that we've already had thousands of people reading the magazine on the iPad app with very little solicitation from us is so encouraging, and I can't wait to see what happens with this new version.'
Go online to issuu.com/blackballmedia where you'll see past editions of Car Dealer.
MORE: Feeling foolish? The best car-related gags from April Fool's Day
MORE: Lookers Nissan Leeds sponsors autism charity
MORE: Manheim extends relationship with Santander Consumer Finance
On WorkshopMagazine.co.uk: Macklin Motors manager honoured for hard work