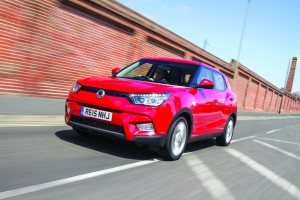 What is it?
It's the latest offering from SsangYong, the oldest car manufacturer in Korea, don't you know. And if you've never heard of SsangYong, the company suits hope that will change as it embarks on its biggest publicity campaign ever, including TV ads (you may have seen it, with little flying drone things zooming inside and outside the car). The Tivoli was unveiled at the Geneva Motor Show, and the bosses then said it would be a game changer for the firm, as this was a quality SUV the industry would have to take seriously.
What's under the bonnet?

Now this is confusing, so pay attention – there's a 1.6 petrol version, and a 1.6 diesel version. And that's it. There's a choice of six-speed manual and automatic 'boxes, The 4WD models have a torque-on-demand 4×4 system, so in auto mode it remains in two-wheel drive but when sensors detect a potential loss of grip, it switches to four-wheel-drive mode. No customer is going to get confused with power options – this is simples!
What's the spec like?
We had the EX model, which includes as standard a rear-view camera, heated leather front seats, dual climate control, iPod and Bluetooth connectivity and cruise control. The ELX asdds push-button starting and front and rear parking sensors and automatic lights and wipers. The interior is neat and tidy without assaulting the senses with buttons galore – and the top-of-the-range ELX allows you to change the colour on the instrument cluster. Feel calm, have blue; in a rush, go for red. Or yellow… The ELX also includes sat-nav.
What's it like to drive?

There's a glut of SUVs on the market, so something has to be good to stand out from the crowd. SsangYong hasn't really set the pulses racing with its other models, and it suffers from a lack of awareness in the market – goodness, if Kia says only 40 per cent of the UK's car-buying public have heard of its brand, what's the figure for Korean rival SsangYong? One per cent? Two per cent? And that's a bit of a shame, because the Tivoli is a good car. It drives very nicely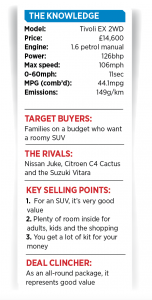 – okay, it may lack the finesse of a Suzuki Vitara or the striking, stand-out looks of a Cactus, but it's a very solid proposition. Some models out of Korea look… well, a bit basic and boxy, but the Tivoli doesn't look half bad. The rear-view camera as standard on two of the three models is a nice touch. but it would have been better if parking sensors were standard, across the range, too. And in this day and age, why launch a completely new model with no digital radio, when you're appealing to families?  But we digress. It's a very comfy drive, the manual gearbox is crisp, it accelerates very adequately and the ride is smooth. There's plenty of room for five adults inside, and there's a plush feel to the interior, with leather trim as standard in the EX and ELX.
What do the press think?
Autocar says: 'It may not have the character or the standout price of a Dacia Duster, but the Tivoli isn't far behind that model as a value champion. SsangYong hopes the new car will double its UK sales volumes over the coming year… it deserves to do nothing less.' Auto Express says: 'The Tivoli isn't the last word in quality but it handles neatly, offers lots of cabin space and looks good.'
What do we think?
It looks pretty good, drives pretty well, and has lots of goodies – it's certainly not the worst car out there. Would customers choose it over better-known models? Debatable – but it deserves a slice of the ever-increasing SUV market pie.