KIA will enter the UK plug-in hybrid market next year for the first time when it launches the Optima PHEV.
The Ford Mondeo-rivalling saloon features a 2.0-litre petrol engine mated to a battery pack and electric motor that can propel it on pure electric power for 27 miles.
Recharging can be carried out on the move using the engine or it can be plugged in and recharged in nine hours with a standard charger. It also boasts a range of more than 600 miles.
A Kia spokesman revealed ambitions to sell around 1,500 PHEV Optimas a year – doubling the model's current sales volumes – but he wouldn't be drawn on pricing.
The best selling plug-in hybrid in the UK, the Mitsubishi Outlander PHEV, sells more than 10,000 units a year thanks to competitive pricing that's on a par with equivalent diesel models.
'We haven't set pricing yet and are not sure how it will compare to the diesel, but I can tell you we won't sell the PHEV at a loss, it has to make money,' said the spokesman.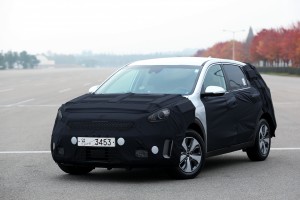 The Optima PHEV is the first hybrid model the firm has sold in the UK and will lead the way for the technology to be extended across the range. Joining the firm's line-up later in 2016 will be a standalone hybrid model, called the Niro – think of it as the Korean company's Prius – and a PHEV version will be added later in the model's life.
In Korea we had an opportunity to put a pre-production Optima PHEV through its paces. On roads around Kia's sprawling Namyang R&D centre, we were impressed by how refined and smooth the PHEV was.
It switched quickly between its 50kW electric motor and 2.0-litre petrol engine and felt swift thanks to a combined output of 203bhp. Performance figures for the pre production model haven't yet been released, nor was a European mpg figure as its due to pass through testing, however a 99mpg/e figure was revealed. Mitsubishi's Outlander claims 140mpg, and we wouldn't be surprised if the Optima performed similarly.
The PHEV features an active grille that opens and closes to improve aerodynamics and aid engine bay cooling and new Eco Plug In badging. The Eco badge will be rolled out by Kia on its hybrid, plug in hybrid and fuel cell models as they increase the range from four models now to 11 by 2020.
Pricing will be key to the model's success, though. If it's keen it's likely to be an attractive proposition for buyers, both to fleets thanks to company car tax savings, and to consumers looking to make considerable savings.
MORE: Hexagon supports Lotus at London watch exhibition
MORE: Plymouth car dealer faces protest from angry customers
MORE: Swansway's Santa Claus will be on patrol again
On SuperUnleaded.com: Texting and driving? Mark Webber shows why you shouldn't