THE Peter Vardy BMW dealership has fought off fierce competition to win the Dealer of the Year title at the BMW UK Awards.
The Edinburgh dealership was also nominated for an award in the Aftersales Performance and Used Car Performance categories and won the award for BMW 7 Series Dealer of the Year.
Guy Watson, head of business at Peter Vardy BMW, said: 'It's been a lifelong ambition since joining the BMW brand that Peter Vardy could achieve this number-one award with BMW.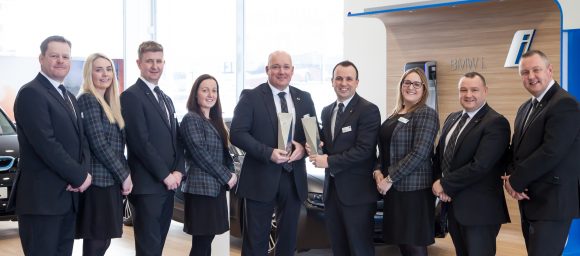 'The team has worked extremely hard over many years to earn this award and I'm very proud of them for making this happen.'
The award was determined by a variety of measures, with the dealership scoring highly on new car sales targets, achieving an eight per cent rise, totalling 125 per cent of target in the year to date.
It also achieved continued improvement in their customer service scores across both sales and service, achieving scores in the upper quartile as well as being number-one for used cars in the country.
Group chief executive Peter Vardy said: 'This is a fantastic tribute to the BMW team. To be named the best BMW retailer in the whole of the country, and to be competing on the global stage, is a great achievement.'

The award was collected by managing partner Guy Watson, franchise director Johnny Kildare and group CEO Peter Vardy.
But the dealership won't be resting on its laurels, having been nominated for Excellence in Sales 2017 at the forthcoming BMW Global Awards.
MORE: Top 10 reasons you need to be at CDX
MORE: Porsche Centre Bolton unveils new look
MORE: Dealer prepares to close after losing Nissan franchise
On WorkshopMagazine.co.uk: MOT changes coming into effect in May