PETER Vardy, the Scotland-wide automotive retailer, has today (8 August, 2016) launched a new BMWi brand retail outlet in Edinburgh.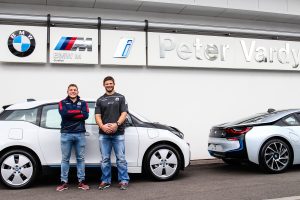 The new dealership will sell the all-electric BMWi3 model and its sporty big brother, the plug-in hybrid BMWi8.
The all-electric BMW i3 is the world's first mass production model to be designed for sustainability. As an all-electric car, it generates zero emissions and no odours while in use, making it the perfect companion around town.

The BMW i8, on the other hand, is the first sports car with the consumption and emission values of a compact car. As a result of its innovative construction it boasts ground-breaking use of materials, aerodynamic design and a wealth of intelligent BMW EfficientDynamics features.
The new BMWi brand offering will have its own display stand at the existing BMW dealership operated by the Peter Vardy site on Seafield Road. In addition, it will offer also a charge point station for electric car users.
Peter Vardy, chief executive, said: 'I am delighted to welcome the BMWi range to the Peter Vardy Group.
'We are very excited by the prospect of bringing our first electric cars on board and we expect to see substantial customer interest in these leading-edge, beautifully-designed BMWi models.'

MORE: Motor group gets behind Wave 105 Cash for Kids awards
MORE: Bristol Street Motors Hyundai kicks off Exeter City support with shirt giveaway
MORE: BCA strengthens UK auction network
On SuperUnleaded.com: Why Warming Your Car In Winter Is Pointless