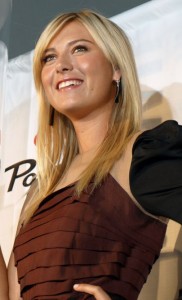 PORSCHE is aiming to diversify its audience – appointing tennis pro Maria Sharapova as its new global brand ambassador.
The appointment is a first for the German sports car maker, and is likely to be an attempt to attract more women customers to the Porsche brand. Currently nearly 90 per cent are bought by men.
Sharapova, who is ranked as world No2 by the Women's Tennis Association, celebrated her new role with a photo shoot at the Porsche museum in Stuttgart, posing alongside a selection of the marque's most successful and iconic road and race cars.

The event coincides with the Porsche Tennis Grand Prix, also held in Stuttgart, in which Sharapova will be defending her title later this month.
Commenting on the appointment, Porsche CEO Matthias Mueller said: "Maria is the perfect choice; her profile and charisma are an ideal fit for Porsche."
Sharapova will front Porsche campaigns for the next three years.
The deal is the latest in a long line of brand endorsements for the Russian tennis star. She already promotes Evian, Nike, Tag Heuer and Samsung, and her annual revenue from endorsements alone is estimated at around £20 million.

She also previously had a brand ambassador role with British luxury carmaker Land Rover in 2006.
Something of an entrepreneur, Ms Sharapova has also launched a brand of sweets called 'Sugerpova', which have sold over 1.5million bags in the six months since they were introduced.
Picture credit: Wikipedia
Have you filled in our Car Dealer Power survey yet? It's a great opportunity to have your say, and you could win one of seven great prizes! Click here to enter.