SUPER Veloce Racing (SVR) is accepting applications for one of the rarest Lamborghinis in existence from its Buckinghamshire showroom.
One of only 28 in right-hand-drive and 186 built worldwide, the Murcielago LP670-4 SV is offered by SVR,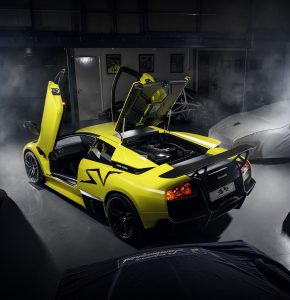 established and operated by ex-Lamborghini aftersales manager Alan Robb and ex-Lamborghini Works driver Lee Cunningham, alongside business partner, Ben Adnett.
Just the third Lamborghini to adorn the famous Super Veloce moniker after the Miura SV and Diablo SV, this track-orientated version of the Murcielago utilises Lamborghini's iconic first-generation 6.5-litre V12 power plant – the last Lamborghini model to do so – to produce 661bhp with a six-speed semi-automatic, E-gear transmission.

It makes the SuperVeloce variant of the Murcielago the fastest, lightest and most powerful road-legal Lamborghini produced to that point.
One of the first models in SV specification to leave the factory, this striking all-wheel-drive 2009 Murcielago SV features the aggressive aerodynamic package that has become synonymous with Lamborghini's recent models.
This example of the Murcielago SV has been fully serviced throughout its tenure by official Lamborghini Service Centres, covering just 15,646 miles.
MORE: Why it's back to the future for MG in Oxfordshire

MORE: How YOU could be a winner in this year's Used Car Awards
MORE: New chief commercial officer appointed at BCA
On SuperUnleaded.com: Block Is Back For Gymkhana 9!