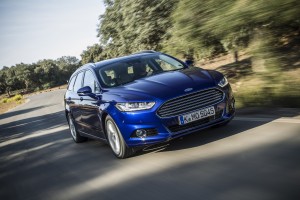 PEOPLES, the UK's largest independent Ford dealer, has revealed a record-breaking financial year and sales performance.
The group, chaired by Scottish entrepreneur Brian Gilda, reported increased profits, turnover and year-on-year sales. The results build on last year's performance which also set new records.
The company's annual report shows pre-tax profits for the year ended July 31 of £4.361million on turnover that grew by £19.1m to £205m.

Gilda said the results had been delivered 'in the face of fierce competition' and he added: 'What makes these results special is the outstanding loyalty of our customers.'
Sales across the group, which comprises three dealerships in Scotland and four in the north-west of England, totalled more than 16,000 vehicles, a year-on-year rise of 8.3 per cent.
The commercial vehicle division expanded earlier this year and is running at plus 38 per cent of the previous year.
In more than 30 years with Ford, Gilda said the current vehicle range was 'unquestionably the best it has ever been'.

MORE: New Ford showroom opens after significant investment
MORE: The futuristic dealership with no salesmen
MORE: New look for showrooms is going down well with Mazda dealers