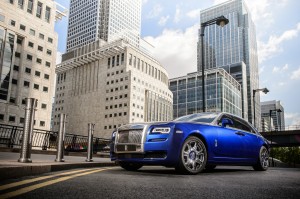 WE MAY be coming out of a global recession, but there are still plenty of people with money…
Rolls-Royce has announced that for the first time in its 111-year history, it has delivered more than 4,000 cars to customers in a calendar year.
It's the fifth year in a row that sales are up, and means sales of the super-luxury brand have quadrupled since 2009.

Sales in North America were up 30 per cent, the Middle East by 20 per cent, and Europe by 40 per cent. The United States remains the most significant market for the company, with the UK the fourth-largest market.
The dealership which sells the most cars is in Abu Dhabi. There are 127 dealerships around the world, with more planned to open in 2015. The company says that among the emerging markets are Azerbaijan, Kazakhstan and Vietnam.
And of those 4,063 cars delivered last year – which all left the home of Rolls-Royce at Goodwood in West Sussex – a record number of customers spent time with design consultants adding bespoke features to make their car truly their own.
Rolls-Royce now employs more than 1,500 people at Goodwood, with another 200 new and existing staff to be housed at a new Technology and Logistics Centre being built at nearby Bognor Regis, set to open in 2016.

The biggest-selling Rolls-Royce remains the Phantom, with strong orders also received for the Ghost Series II, which was launched in November, and the Wraith.
MORE: UK's final Cadillac dealership closes – and boss paints a bleak picture of industry
MORE: Hyundai opening two new factories