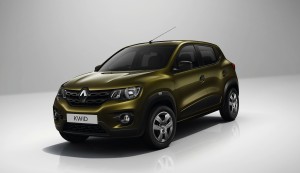 RENAULT has unveiled its newest model, the Kwid. Dubbed 'an attractive, innovative and affordable vehicle for international markets'.
The market which Renault are keen to focus on is India. This will be the first country to see the Kwid, starting from the latter half of 2015 and priced at around £3,000 to £4,000.
Renault believes the model will be popular in India due its SUV look and compact size – ideal for urban traffic as well as longer drives – plus features which are usually associated with higher-end models. The vehicle's slightly raised ride height and SUV inspired wheel arches will also come in useful on some of India's ruggedly-surfaced roads.

The city car crossover will technically be within the A-segment, however the French brand claims it will stretch the boundaries of typical small car design rules with its robust exterior, made up of the traditional, aggressive Renault grille and curvaceous side panels.
Laura Thomson
MORE: Why a decent website is key for dealers
MORE: New online marketing portal for RAC-approved dealers

MORE: Bangers4Ben does F1… your chance to drive four grands prix circuits on the route
On superunleaded.com – Lamborghini Loses Fight With Fire, Charred To Death