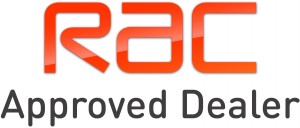 A NEW online portal has been launched for all dealers in the RAC network with the aim of helping them to maximise the positive impact of the RAC brand on their business.
It acts as a central repository for a wide range of RAC dealer brand assets such as logos, literature, bulletins on RAC activities for dealers, public relations support and more. Many of these relate to the RAC BuySure used car programme.
Additionally, the portal includes statistics on the number of online referrals from the RAC route planner, which now lists RAC approved dealers and receives more than one million unique visits every month.

Later this year, a new facility will also be added that will allow RAC approved dealers to e-mail RAC members within their local area twice a year, enabling them to build brand awareness and sales in their local area.
RAC head of dealer propositions Mario Dolcezza said: 'We are working closely with RAC approved dealers so they can access more of the benefits of being associated with the RAC brand name alongside our national consumer launch.
'Our dealers have to meet very stringent standards to be named as part of the RAC approved network and we have a high degree of confidence when it comes to allowing them to use our brand assets and contact RAC members directly.'
 Dolcezza added the RAC expected the consumer launch to dramatically increase public awareness of both the RAC approved dealer network and RAC BuySure.

He said: 'The launch will hugely benefit the existing RAC approved network dealers who are authorised to take part in the RAC BuySure programme. However, we are also seeking to expand the network to take advantage of increased demand.
 'Our strategy with the approved dealer network has always been to recruit the right dealers rather than aim for quantity. We want only those who have an RAC level of commitment to customer service and we are inviting applications from committed, high-quality dealers who believe they can meet our standards and therefore become part of the programme.'
MORE: Make sure that car you're selling is in tip-top condition…
MORE: Bangers4Ben does F1… your chance to drive four grands prix circuits on the route
MORE: Baggott at the centre of a media storm… because he's giving away his step-daughter's filthy car
MORE: KR15 HNA sells for record £233,000
On superunleaded.com – The Most Expensive Car Registrations Ever