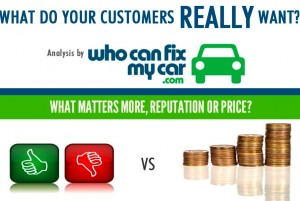 REPUTATION far outweighs price when it comes to choosing a garage, according to new research.
A study carried out by the website whocanfixmycar.com revealed that reputation was the most important factor for 57.5 per cent of people, while 23 per cent identified price as their main consideration.
Female car owners are 19 per cent more likely to make a decision on that basis, the study found.

And there was another interesting finding – almost 10 per cent more city dwellers make a price-led decision than those in the countryside.
A couple of the facts that the study found were perhaps not particularly surprising. Drivers who are aged 55 or over are more likely to choose a garage based on a personal recommendation, while under-35s are 74 per cent more likely to choose a garage based on online reviews.
Younger drivers are more focused on price too. They are 49 per cent more likely to make a price-led decision than more senior motorists.
And interestingly, distance was a key differentiator for around 10 per cent of drivers.

Discussing the fact that reputation matters most to drivers, Alex Rose, marketing director at whocanfixmycar.com, said: 'It's a trend we see on a daily basis. Garages with the highest feedback scores close the most business, even if their prices are higher than the other quoting outlets.
'And with distance a key differentiator for 10.2 per cent of drivers, it's worth noting that even great reviews and prices won't create a limitless catchment area.'
Whocanfixmycar.com provides motorists with a quick, simple way to find their local garage or mechanic. Around 40,000 car owners have now used the site for everything from MOTs to accident repairs.