PEOPLE will be able to buy a hatchback at the same time as a hoodie when a new retail partnership gets off the ground this year.
Rockar, the industry pioneer in futuristic car retailing, has announced a collaboration with fashion and homeware chain Next.
The deal will see the opening of Rockar-style, digital-experience stores within Next shops, the first of which will open this spring in the Arndale Shopping Centre, Manchester.

Next is constantly looking to enhance the retail experience it offers customers. The high-street chain has more than 500 stores located in popular shopping areas, and Rockar says this means there are exciting possibilities for for both brands.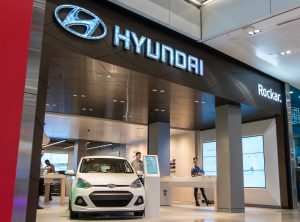 Car dealerships have experienced declining footfall numbers in recent years, while the high street has struggled to keep up with the rise in internet retailing.
Rockar believes the car industry needs to adapt to – and embrace – these shifts in customer behaviour.
The 'Rockar way' bypasses the traditional car-buying process, perceived by many to involve pushy salespeople, daunting car showrooms and confusing pricing.

The company says it empowers customers, instead, to browse and buy a new car in a way that most suits them – whether that's through its unique online platform, or from one of its digital-experience stores based in convenient shopping centre locations.
Simon Dixon, founder of Rockar, said: 'This is a really exciting project for us and we're thrilled to have Next on board.
'Our collaboration is very aligned in terms of core values. Next is a true omni-channel business, so it makes sense that they would capitalise on the opportunity to offer something unique to their customers.
'Sixty per cent of Rockar customers complete their car purchase at home via our online platform.
'Soon, they'll be able to begin their journey while on a shopping trip to Next, and we think that's really compelling.
'We'll be announcing which car brand will be heading up the stores very soon, so watch this space.'
So far, Rockar has launched three manufacturer stores in the UK, in partnership with Hyundai (pictured), Jaguar and Land Rover.
Most recently, Rockar launched a partnership with Mitsubishi which includes the roll out of the Buy Online platform, as well as facilitating the launch of Mitsubishi retail stores.
MORE: Rockar stores have had an 'unbelievable' impact on Hyundai
MORE: Hyundai and Rockar open their second store together
On Workshop Magazine: Garage starts the year in style with £1,000 prize