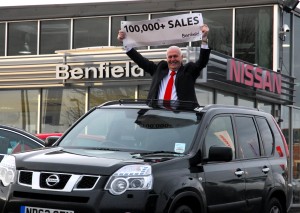 A NORTH Shields man who has helped Nissan become a powerhouse of the UK automotive industry is calling time on his incredible career after being involved in a staggering 100,000 car sales over more than half a century.
Super salesman Ken Searle, 67, clocked up the amazing tally of new and used car deals during his 52 years as sales manager, general manager and business manager for the North East's largest Motor Group, Benfield.
Based at Benfield's Portland Road site, the grandfather-of-five started out selling British Leyland models at the group's first car dealership, then Addison Motors in Byker, before joining the original team selling Datsun – Nissan's forerunner – when it first launched in the UK in 1973.

Since then he has remained firmly at the helm of the group's Nissan franchise, selling tens of thousands of cars, helping Benfield become an established name and making a major contribution to Nissan's market share.
In recognition of his achievement, Benfield's Chief Executive, Mark Squires, presented him with a Japanese Kokeshi doll on behalf of Nissan UK, and a specially commissioned caricature courtesy of the dealer group and his colleagues.
A proud Ken said: 'I've loved every minute of my career and I wouldn't have changed a thing.'
'Nissan's been a great brand to work with and it's been brilliant to watch it grow, particularly here in the North East where many of the cars are made.

A massive contribution
'And it's been a privilege working for Benfield. This is a real family firm where people really care about each other.'
Following Ken's retirement, Nissan GB Sales Director Jon Pollock, paid tribute to the part he played in the company's success.
He said: 'By playing his part in more than 100,000 car sales – the vast majority of them Nissan models – Ken has made a massive contribution to our success.
'All of us at Nissan wish him all the very best for a long and happy retirement.'
Mark Squires, Chief Executive, Benfield Motor Group, added: 'We are all very proud of Ken and his amazing career and record of car sales.
'He is a very popular figure with many thousands of our customers across our region and we are privileged to have had such a loyal, dedicated, hugely likeable and successful employee working for us for all these years.
'We will all miss him and wish him and his family a long and happy retirement.'
In the picture on our home page, Ken signs out under the watchful eye of Benfield's Chief Executive, Mark Squires as he colours in the eye of the Japanese Kokeshi doll, which signifies the start and end of his incredible career with Benfield and Nissan.