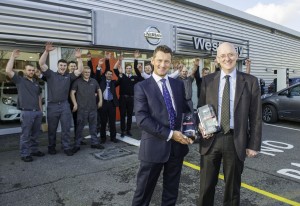 A NISSAN dealership in Aldershot has won the manufacturer's top global retail honour for the second year running.
West Way Nissan in Windsor Way picked up its first prestigious Nissan Global Award – presented to a small number of the world's best performing dealerships – at a ceremony in Los Angeles last year.
And bosses at Nissan HQ in Japan took the unprecedented decision to present a second consecutive award after the dealership continued to excel across all key areas in 2014.

Dealer principal Terry Hancock said: 'Most dealerships never receive a Nissan Global Award and so for us to win two on the bounce is an astonishing achievement. These awards are the highest Nissan makes to its dealers in the world and they don't hand many out.
'We have a fabulous and hardworking team at the dealership and every member of that team has played a part in this incredible success. They should all feel very proud of what we've achieved.'
James Wright, managing director of Nissan Motor (GB), visited the dealership to present the award.
He said: 'Winning a Nissan Global Award is a massive achievement that very few dealerships in the world ever achieve. Winning it twice in a row is simply phenomenal and the whole team at West Way Aldershot, from the top down, deserves huge credit.'

MORE: West Way expands into London with Nissan
MORE: The only way is upmarket, says Peugeot chief