Improving the customer experience is the driving force, says JudgeService in this sponsored post about its customer review platform
ONLINE reviews and comments are more important now than ever – after all, what business wouldn't welcome a five-star write-up from a satisfied customer?
After almost 10 years in business, JudgeService, arguably the UK's most effective online review provider, knows that these are just the tip of the iceberg, however.

Car Dealer recently caught up with Neil Addley, founder of JudgeService, to get his take on customer satisfaction and reviews.
Firstly, we asked him to outline what he sees as the difference between JudgeService and other review providers.
'Three things, I think,' he replied. 'Firstly, we are automotive specialists. That means we ask questions in our insight surveys that allow a dealer to see how individual sites or salespeople are performing. Secondly,
we're all about improving the customer experience, not just getting good reviews. Finally, our account managers provide one-to-one support to our clients and any one of them can pick up the phone to me with a new idea or suggestion at any time.'
JudgeService, based in Harrogate, North Yorkshire, is nine years old. We asked Addley what he'd learnt over that time.

'You've got to keep innovating,' he said. 'When we started, smartphones were scarce; now, over half our surveys are completed on mobile.
'Even the ways people buy – or finance – vehicles has changed over that period.
'Also, although it seems obvious, look after your people. If you create the right environment for your team, they'll naturally deliver the best service possible to your clients.' JudgeService offers a wide spectrum of customer insight and review services to its clients:
 Reputation Manager offers a dashboard that allows you to see all online reviews in one place and reply to Google and Facebook reviews from that dashboard.
 ProAct uses JudgeService's contact centre to call lost sales customers and get insight at the same time as turning them into hot leads.
 Snap n Share allows your customers to celebrate a vehicle handover with pictures they can keep and share on social media.
 ReAct, JudgeService's core product, features a class-leading survey for used car, service, and repair customers that gives really useable insight into their experience. Were test drives offered? Was finance explained properly? Did the customer get on well with the member of your staff they were dealing with?
What matters most?
'We've found that there is a direct link between customer satisfaction and stock turn,' says Addley.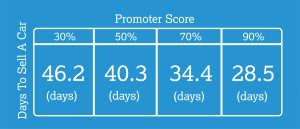 'We looked at our promoter scores and found that a 20 percentage point improvement in the score actually drives the speed cars are sold. A 20 percentage point increase in the promoter score improves the speed of selling a car by a whopping six days.'
When you drill into the data, the most important factor is the salesperson's attitude, followed by attitude at handover and then explanation of paperwork. A five percentage point improvement in any of these areas drives up the promoter score, which in turn shortens the time it takes to sell a vehicle.
JudgeService data highlights the importance of recruiting and training the very best salespeople. In effect, the best salespeople are worth thousands of pounds in terms of much quicker stock turn.
The JudgeService effect
Finally, we asked Addley where he thought customer service and reviews were heading.
'We've found that our clients' customer service – and therefore stock turn – have genuinely improved over time. This isn't a coincidence, it's an action – a series of actions that make the world a better place, one customer at a time.
'The future we see is one where genuine customer service overrides the pursuit of reviews for reviews' sake. Consumers and colleagues are increasingly conscious of authentic feedback.
'We see this going mobile, going beyond reviews and almost into gossip. What do your team hear from your customers?
'By reflecting the customer's views and integrations with CRM and DMS, customer service will continue to improve, protecting the sector from new entrants by delivering an outstanding experience.'
E: [email protected] T: 01423 225166