We've got some real big hitters in the new edition of Car Dealer – and we're not just talking industry executives!
Issue 157 is crammed with news, views, reviews, interviews and much more. Here's just a taste of what's in the latest interactive and free digital edition of the magazine…
Features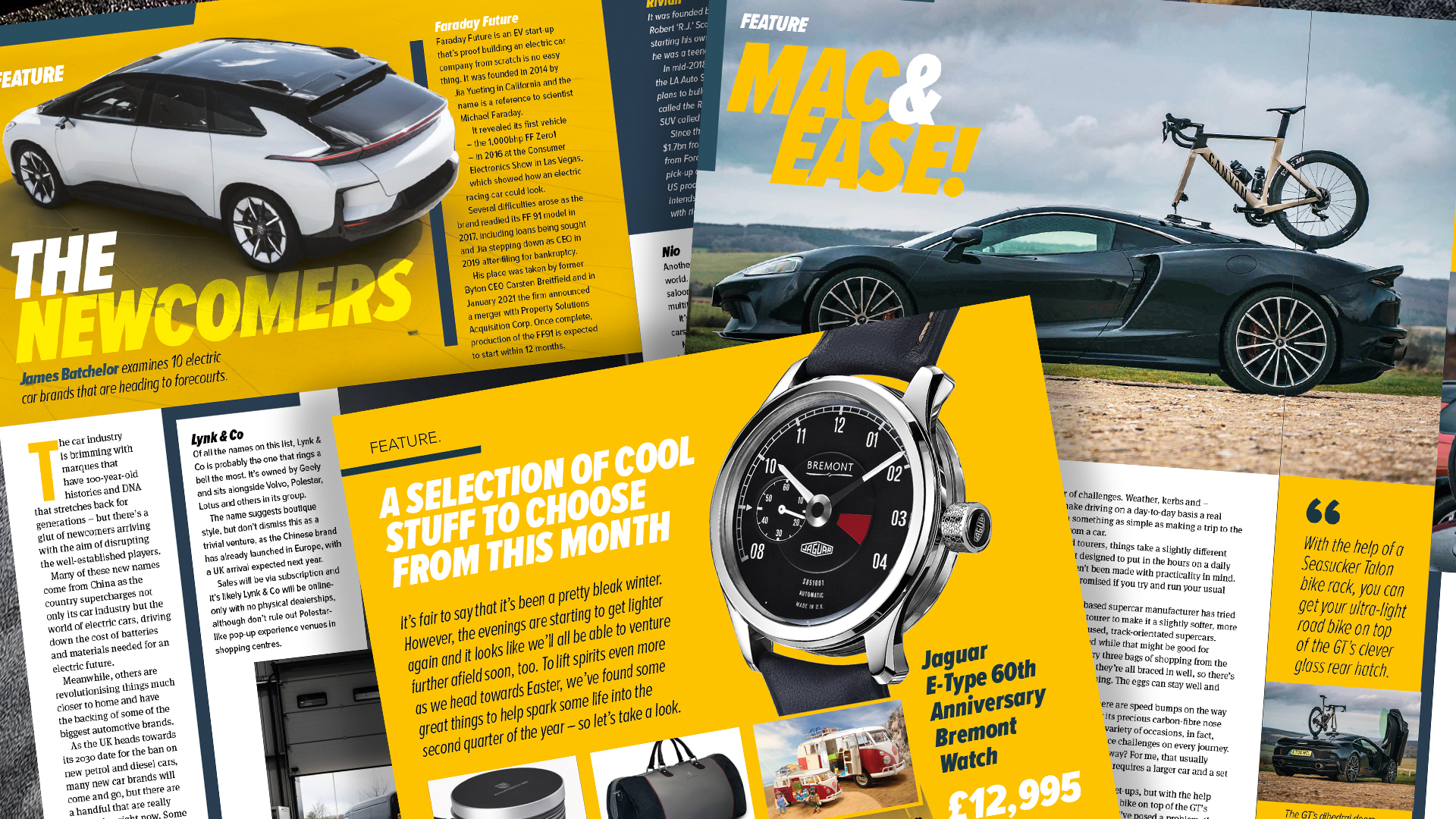 Supercars and grand tourers aren't really designed for the daily grind but McLaren reckons its GT offers more usability than you'd expect, and Jack Evans was more than happy to be the judge of that.

It's the hot topic that's only going to increase in temperature the closer we get to the 2030 ban on sales of new petrol and diesel cars. We're referring to electric vehicles of course, and we shine the spotlight on 10 brands that car dealers need to be aware of.
We also highlight some car-centred items aimed at brightening your day – as well as emptying your wallet rather spectacularly in one particular instance!
Investigations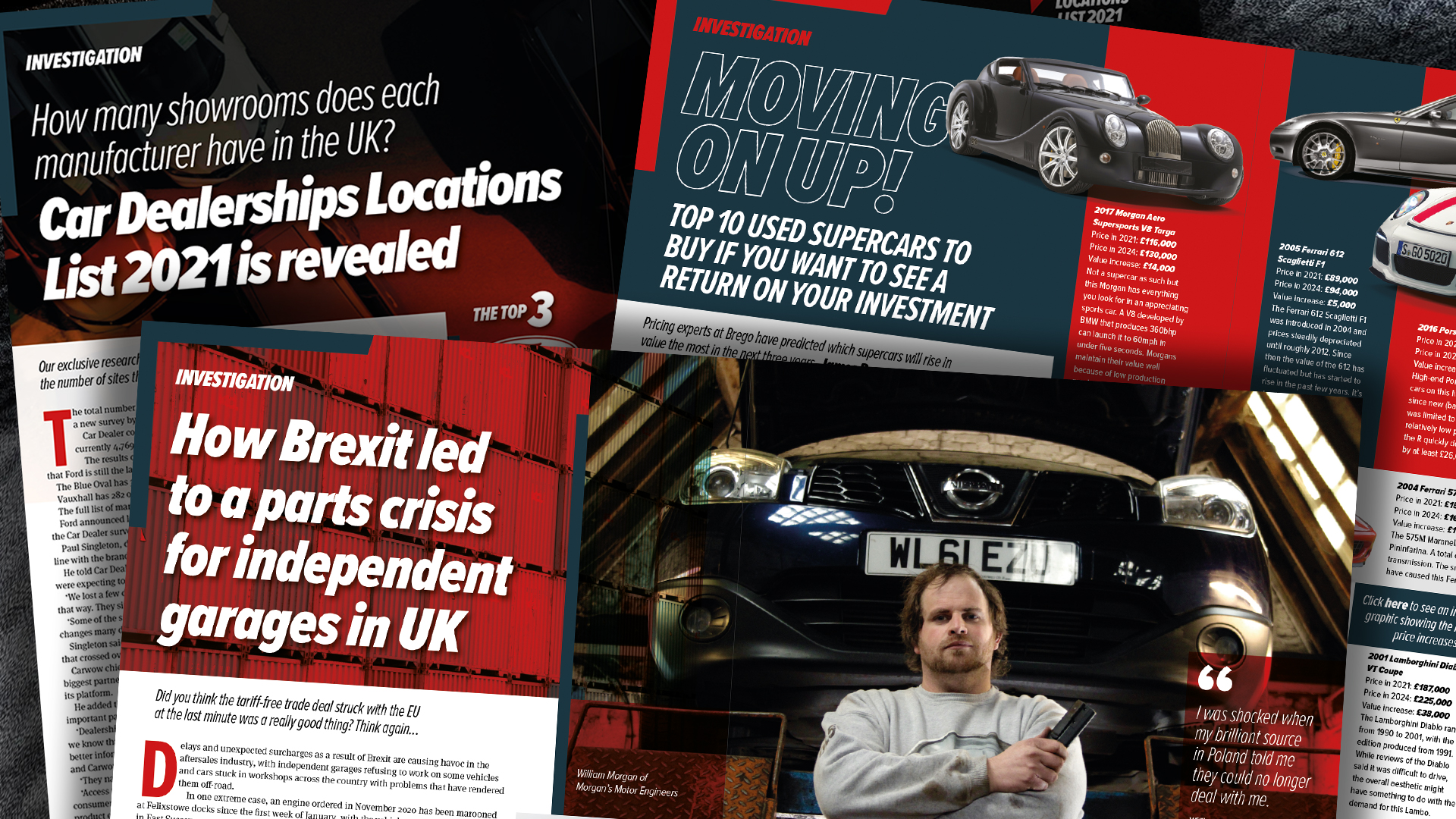 A Car Dealer exclusive! We reveal exactly how many dealerships each manufacturer has in the UK in our locations list for 2021!
We also take a fresh look at used supercars – in particular, the ones predicted to rise in value the most between now and 2024.

And if you thought the 11th-hour tariff-free deal agreed with the EU was the bee's knees then you really need to read this hard-hitting look at the havoc that it's caused in the aftersales sector.
Interview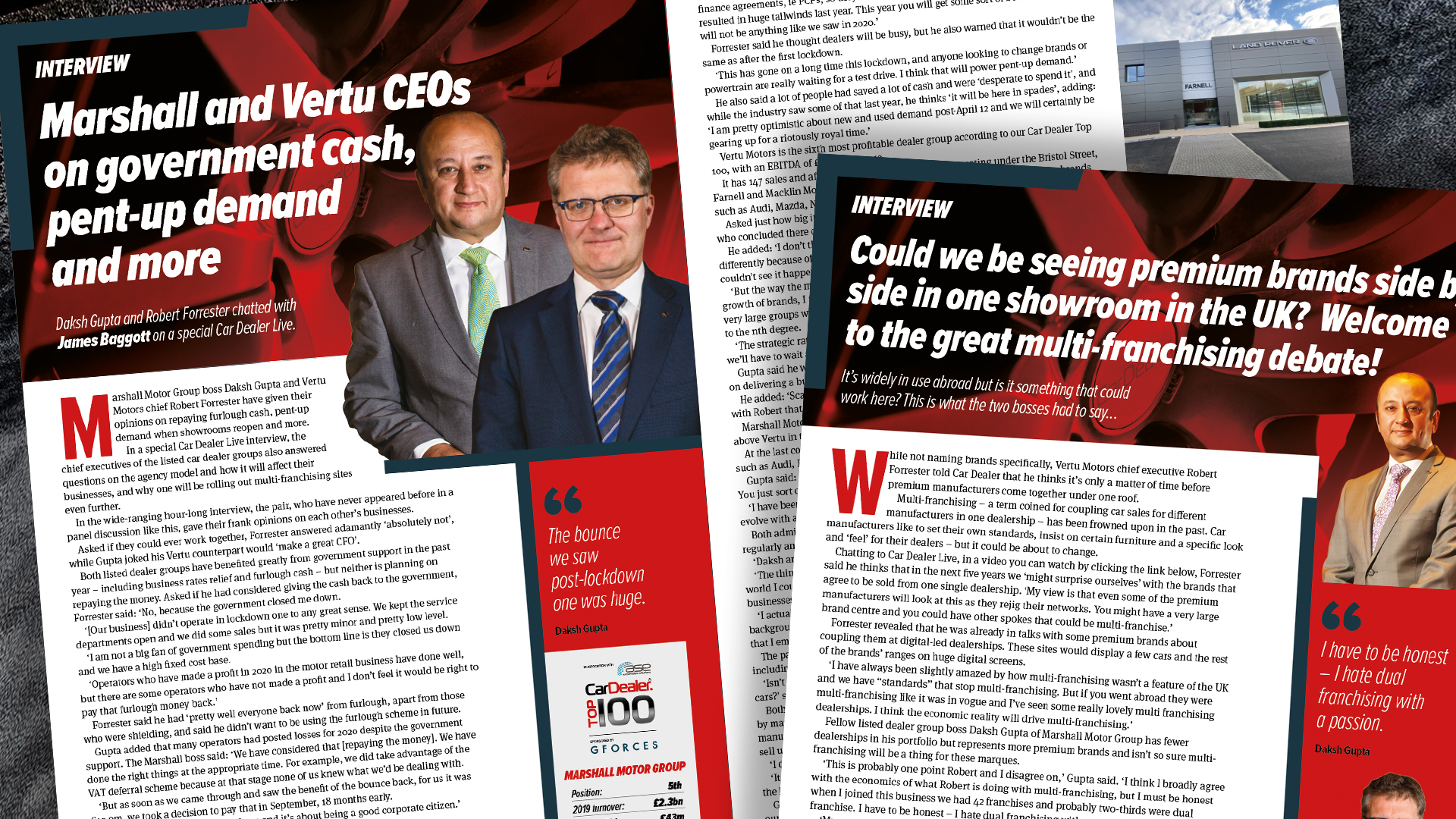 In a major scoop, we managed to get Daksh Gupta and Robert Forrester – the bosses of, respectively, Marshall Motor Group and Vertu Motors – together for a special discussion on Car Dealer Live. Well, they were 'virtually' together… (Or should that be 'Vertu-ly' in the case of Mr F?)
Among the topics they chatted about were government support, pent-up demand, multi-franchising – and whether they could ever work together!
Forecourt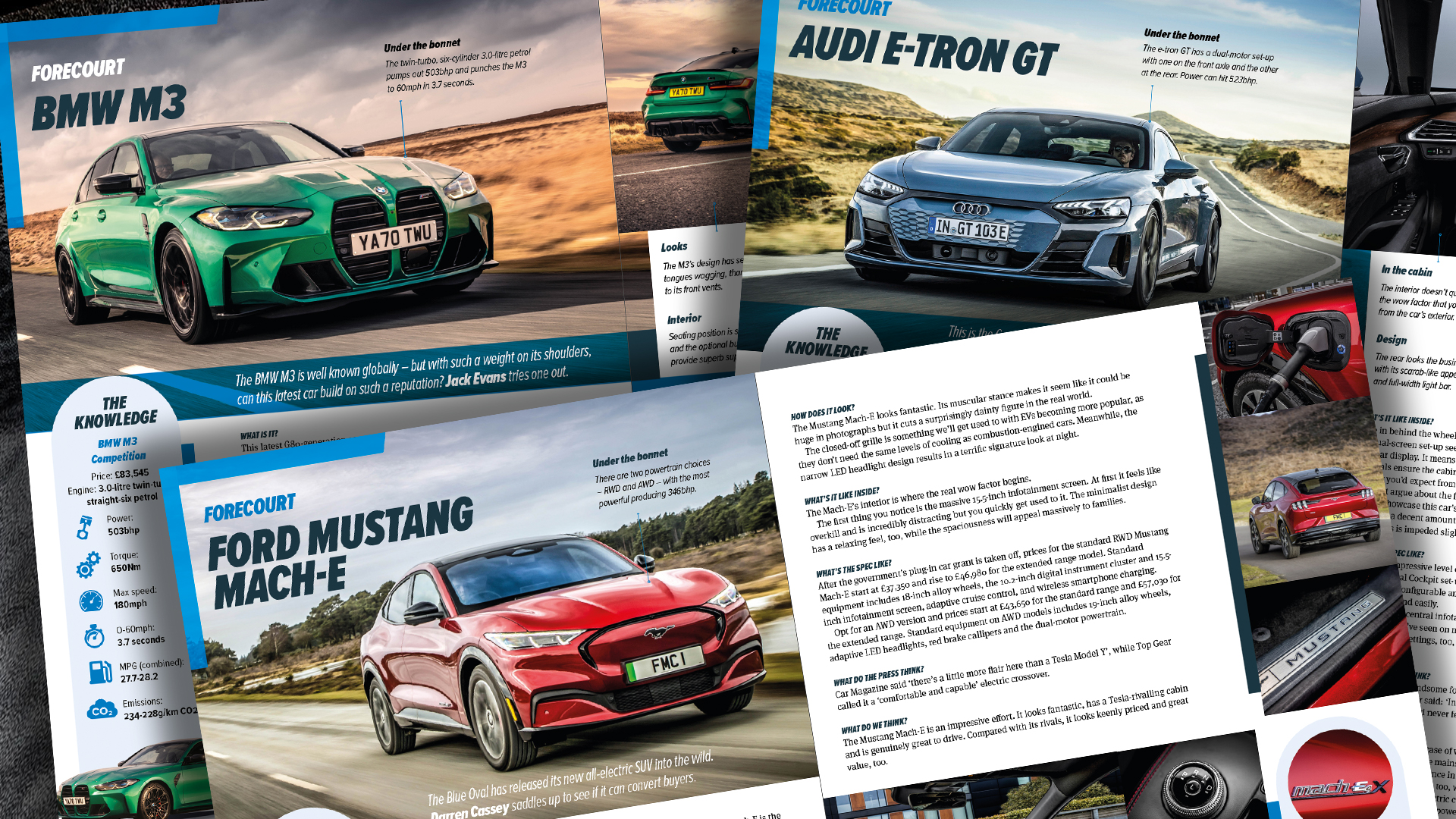 We've got quite the quintet of cars put to the test this month!
Our four-wheeled cover stars the Ford Mustang Mach-E, Audi e-tron GT and all-new BMW M3 join the reworked Renault Megane and lighter, less powerful Toyota Supra as they're put through their paces by Jack Evans, Darren Cassey and Ted Welford.
Columns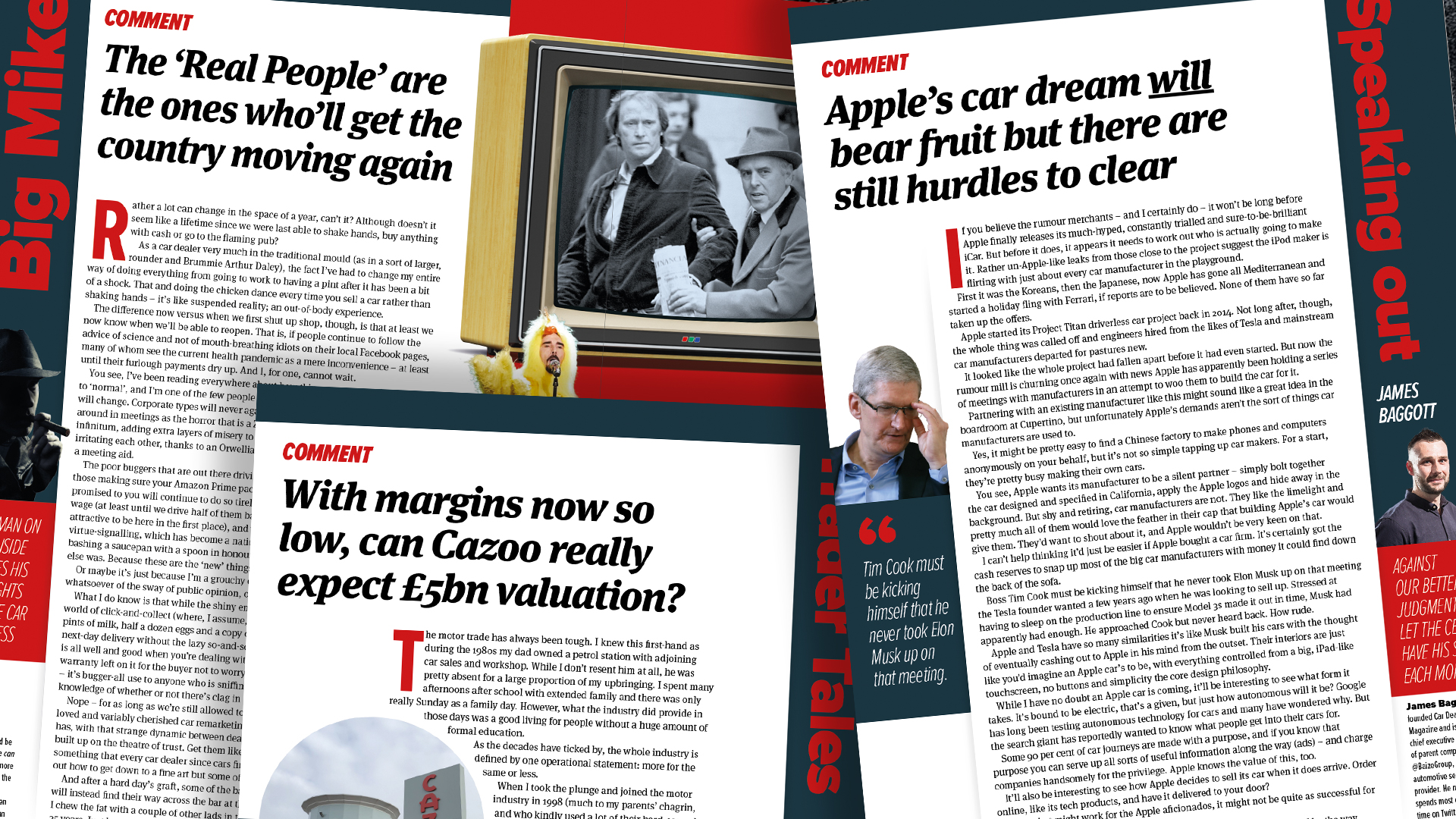 Car Dealer founder James Baggott yields to no one in his admiration for Apple, so he's super-excited at the news – OK, rumour – that the tech behemoth's long-thought-dead plans for a car appear to have been revived.
It's being widely said that things will never go back to normal after the pandemic, but our mystery man of the automotive industry Big Mike begs to differ and he has some very wry words to say on the topic.
You won't be able to tell from his headshot but automotive retail consultant James Litton's eyebrows are raised at what he perceives are Cazoo's rather lofty impression of itself.
Round-ups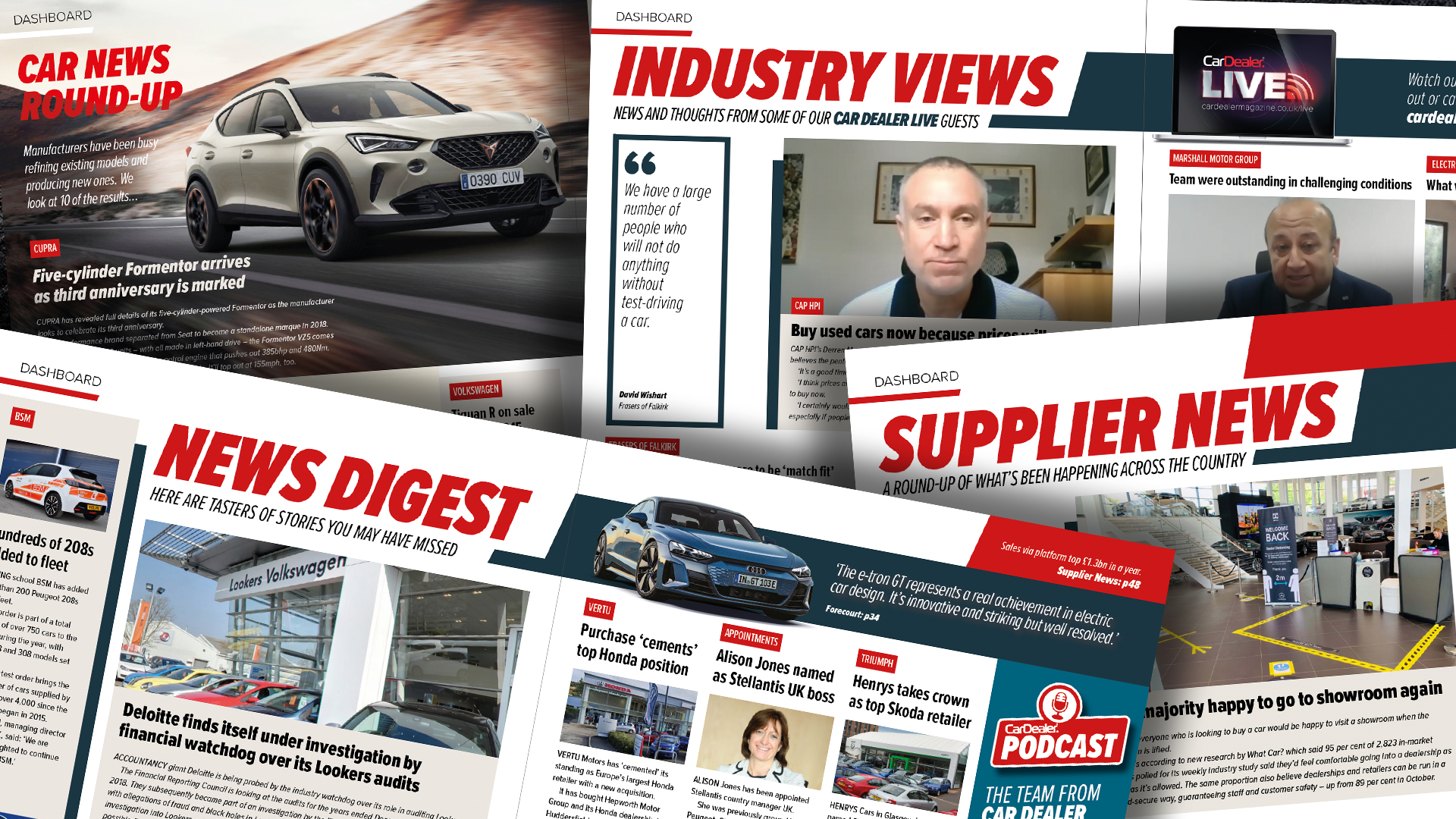 We've squeezed some of the biggest stories from the automotive world into our four-page news digest – and by some very clever science, courtesy of digital publishing, you can click through to the full version on our website!
There's also news from the business world as well as the supplier sector, and we take a look at what other interviewees have been saying on Car Dealer Live, plus give you a peek at what manufacturers have got in store.
Used Car Awards 2021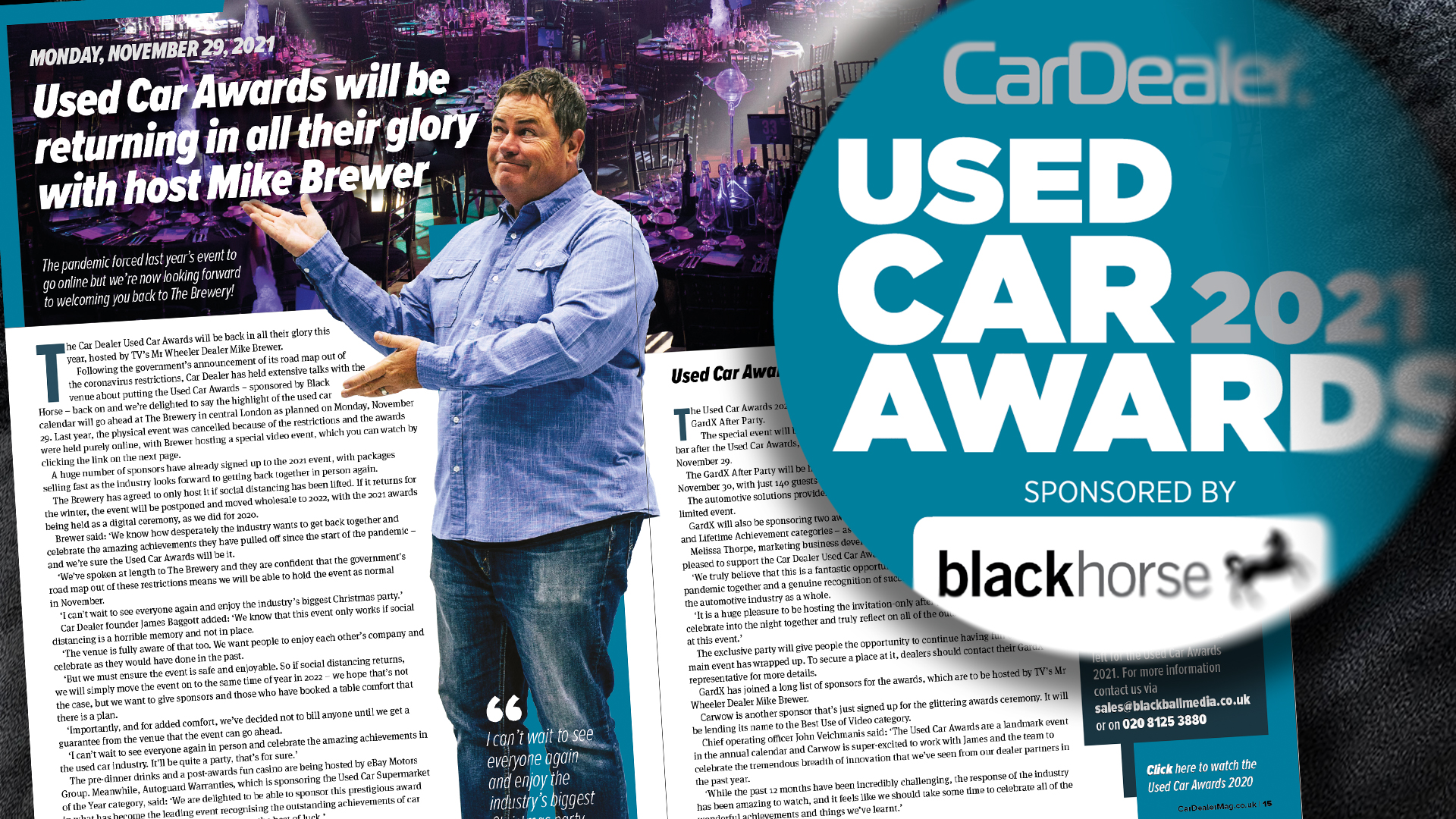 No sooner had the digital dust settled on our online ceremony for 2020 than we set our mind to this year's event – and there's some very exciting news where that's concerned!
Yes, it's all systems go for the Car Dealer Used Car Awards' triumphant return to The Brewery in central London, where everyone will be able to party like it's 2019 (assuming the government's roadmap out of the restrictions goes to plan), as we celebrate the best of the best among this backbone of the industry.
Sponsors have been flocking to put their name to the event, and you can find out more in this two-page spread.
This is all just a taster of what's available in our 68-page edition, which is available to read for free via Issuu.
How to read the magazine
The easiest way to access it all is by clicking on the digital magazine at the top of this page.
For a quick video on how simple it is to read Car Dealer online, click below:
Want to read on your mobile device? It's also viewable in the Issuu app, both for iOS and Android. Switch your notifications on and you'll get an alert every time a new magazine is published.
Want to make sure you're kept informed about new magazines being published? Subscribe to our email newsletter and you'll be contacted as soon as each issue is released.
And for daily breaking news updates join our WhatsApp group to get them sent straight to your phone. Email us via the website here to get a link to join.