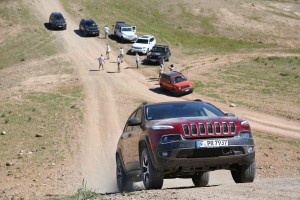 EDGING up a 45-degree incline in the scorching Moroccan desert, all we could see through the windscreen of our Jeep Cherokee was the dazzling blue of the midday sky.
The extreme gradient meant we were pressed back in the seat of the car as if about to start a rollercoaster ride, and although we might have been feeling a little anxious as we inched ever closer to the summit (after all, there could have been a sheer drop the other side!) we knew we could rest easy.
You see, our car, a Trailhawk version of Jeep's iconic SUV, was doing all the hard work.

With the four-wheel-drive mode in low, the driving conditions set to 'rock' and the speed programmed to stay at a constant 4mph, all we really had to do was steer. And even we can manage that!
The dry, dusty terrain beneath our tyres would have seen the wheels of many lesser vehicles stutter and spin, and even Cherokee seemed to falter for a fraction of a second as we tackled a patch of particularly broken ground, but there was never any doubt that we'd make it.

The steep ascent was part of a two-day desert challenge organised by Jeep, and to which Car Dealer was lucky enough to be invited. And it was an unforgettable experience in a remarkable car.
After all, off-road journeys probably don't come much more extreme than those we embarked on in north Africa. From thrilling night-time driving in jet-black desert darkness; to the painstaking navigation of rocky, dried-up river beds, Cherokee took everything in its stride.

And there was even time for an excursion into the nearby Atlas Mountains, which although described as 'road driving' in our itinerary, was far more similar to that hazardous desert terrain than, say, a toodle up the A3 from Car Dealer Towers to London.
There's no doubt Cherokee is a seriously impressive beast. Refined too, though, as we found out on the main roads back to base.
When it comes to Jeep in in the UK, now part of Fiat Chrysler Automobiles of course, it's almost as if a sleeping giant is waking up in terms of sales and brand awareness.
With new Cherokee launched last year and its smaller sibling Renegade arriving in showrooms pretty much as we write this, there's quite a significant renaissance going on. And in fact, Jeep has just enjoyed a staggeringly successful March.
We'll be reporting in full on our Jeep desert adventure – and finding out what the future holds for Jeep dealers – in the June edition of Car Dealer.
MORE: Specialist cars creates 40 new jobs
MORE: Paragon clinches new deal with Vauxhall