AS THE new car market continues to fall and margins are reduced even further, more and more franchise dealers are putting an increasing amount of resource into their used car operations.
These dealers need to access a wide choice of the highest-quality vehicles with comprehensive histories, which can be placed straight on to their website and rolled on to their forecourt. They must also meet manufacturer used car programme requirements.
But where to find this kind of stock?

1link Disposal Network is, we believe, the single best online source for franchise dealers in the UK, with a wide range of cars and vans available from suppliers such as Volkswagen Financial Services, Motability Operations, Autohorn, Agility, Avis, Fleet and Finance (formally Vertu), Citroën and more. Each of these is supported by high-quality images using the Auto Trader 360 standard and a comprehensive history – plus the bidding and buying process couldn't be easier.
Tim Meadows, commercial director at epyx, the company behind 1link Disposal Network, said: 'It is already clear that one of the key industry trends for 2018 is the amount of effort that franchise dealers are putting into their used car operations. This is certainly something that makes sense at a time when new car sales and margins are being squeezed.
'However, the perennial problem for franchise dealers is how to easily get hold of the very highest-quality stock. At a time when they are looking at boosting their used car throughput, this problem is compounded.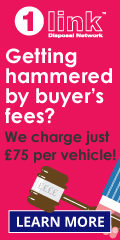 '1link Disposal Network resolves this issue like no other online platform, thanks to the great stock on offer, the depth of vehicle descriptions, quality of images, and a buying process that can be done online at your desk or, using our app, just about anywhere.

'Over the last year or more, we have seen use of 1link Disposal Network increase substantially on a month-by-month basis and this is happening because the platform ticks all the key boxes for all traders – but there has especially been growing interest from franchisees.
'It is not only one of the longest-established and best-known trade sites but it has been continually developed to meet the needs of dealers today.'
Why use 1link Disposal Network?
1link Disposal Network is the most comprehensive online car auction platform in the UK, giving trade buyers exclusive access to an extensive range of quality ex-fleet, leasing and manufacturer vehicles from major fleets and manufacturers.
You can browse, bid and buy via our simple online auctions from as little as £75 per vehicle* and we have more than 2,000 regular customers including dealer groups, car supermarkets and independents buying from us every day.
Key benefits include
• Get access to comprehensive vehicle details including age, mileage, condition, imagery and more
• Set alerts by email or SMS so that you'll be notified when vehicles of specific interest become available
• Bid, make offers and buy vehicles when you're on the move 24/7 with our handy mobile auction app
• Personal account management provides support to help with all aspects of your purchase, from start to finish
• Sophisticated yet easy-to-use app allows you to browse and buy stock anywhere and any time of day
*Pay either an annual fee of £395 plus £75 per vehicle or pay £95 on a single vehicle basis.
To find out more visit 1linkdisposalnetwork.co.uk or call 01676 591 749.