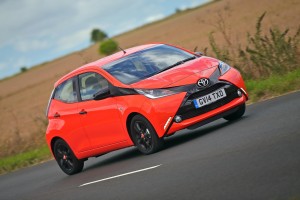 NOW here's a headline we never thought we'd write on Car Dealer….
Tony Steeles was delighted when he took deliver of his brand-new Toyota Aygo, and parked it proudly outside his house. It gained admiring glances from passers-by – and the local squirrel population.
In fact, Tufty and his friends liked it so much they nibbled off the aerial – twice – damaged the oxygen sensor and gorged on the ribber trim.

Each time Tony took it back to the dealership, and each time it was put right.
Now we've all seen a car on the roadside and thought it looked tasty, but this is taking it to a whole new level…
As no other cars in Tony's street in Croydon have been targeted by the furry little rodents, it's thought they may be attracted by the eco-friendly, plant-based plastics that Toyota is now using to boost its green credentials.
A Toyota spokesman told Auto Express the problem was 'unusual',  but said the firm's research and development teams would 'investigate if any improvements can be made to the design of our products to deter rodents'.

We would have thought squirrels would have keener to nibble on a car that had a nice walnut dash…