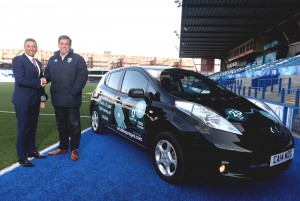 AN AWARD-WINNING car dealership in Cardiff has announced a new three-year sponsorship deal with the professional rugby union team in the city.
Wessex Garages on Hadfield Road will continue to support the Cardiff Blues as one of the club's official sponsors during the next three seasons.
Matthew Rees, Cardiff Blues club captain, said: 'It's fantastic news that Wessex Garages is going to support the club until the end of the 2017/2018 season.

'We'd like to say a huge ''thank you'' to the company. Its continued support is overwhelming and very much appreciated. We work very well with Wessex and it's great that our relationship gets the chance to flourish further.
'As part of the sponsorship deal, Wessex has given us a branded Nissan Leaf, which will help raise awareness for both the dealership and the team. The vehicle is powered by electricity so it is perfect for the ''Blues Go Green'' campaign we're currently running as part of the European Cup to become more eco-friendly.'
Gareth Howells, general manager at Wessex Garages, said: 'Rugby is the game of our nation and we're delighted to be able to continue to support the club for the next three seasons.
'It is vital to support local clubs and help them to continue to thrive. Rugby also brings the community together and is very important in Cardiff.'

MORE: The car that dealers would love to buy back from their customers
MORE: New addition to the team at fast-growing Moneybarn