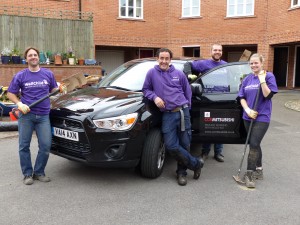 STAFF from a Mitsubishi dealership group will swap the showroom for the great outdoors when they transform a garden for a girl with profound disabilities.
Thirteen members of staff from CCR Mitsubishi dealerships in Swindon, Melksham and Cheltenham will get stuck in to help 14-year-old Molly Begley have the garden she deserves.
Molly, from Swindon, has epilepsy, autism, profound learning difficulties, global development delay and scoliosis. She is in remission from a Wilms tumour, a particularly aggressive form of cancer, but treatment has left her with a number of complex health care needs. It takes two adults to support her on trips out, so leaving the family home is difficult.

The teenager loves the outdoors and using a swing but while mum Claire has had their house adapted to meet her needs, the garden has proved too big a challenge.
Mum-of-three Claire contacted the WellChild charity's Helping Hands team, based in Cheltenham, after hearing about them from Molly's occupational therapist.
Helping Hands relies on volunteers from companies and CCR Mitsubishi has a long-standing relationship with the charity. As well as helping on projects like this, the Mitsubishi group also provides the charity with two vehicles, which saves it thousands of pounds in travel costs.
Claire, 36, said: "I'm so excited, this will make a massive difference to Molly's life. She has spent all summer indoors and not been able to go out.'

Lyndsey Smith, group marketing co-ordinator for CCR Mitsubishi, which has 11 dealerships across the south, said: 'We have a fantastic relationship with WellChild and when we heard about the project to transform Molly's garden we were really keen to help.'
The work will include breaking up existing concrete, levelling the garden, putting down fake grass and a sensory area, installing new fencing and putting in a swing.
Staff from Ardent Office Supplies, based in Waterwells Business Park, Quedgeley, will also be helping with the project, which will take place on November 19 and 20.
Lee Trunks, programme manager for WellChild's Helping Hands project, said: 'It's great that the team from CCR Mitsubishi and Ardent are helping. The house has already been made appropriate for Molly but the garden is a mammoth task. This will make a life-changing difference to the family.'
MORE: Want to sell a car? Ask the customer when their birthday is
MORE: A winter welcome to the tyre hotel…
MORE: City Auction Group to launch new Rockingham venture