STRATSTONE, one of the UK's leading luxury automotive retailers, has today (May 10) revealed that it is the owner of one of the famous 2015 Jaguar Lightweight E-types.
Chassis number 15 is one of the infamous 'Missing Six' and didn't have to travel far from the iconic Jaguar Browns Lane production facility in Coventry as it made its way to its new base at Stratstone Jaguar London in Mayfair.
The fascinating story of the Lightweight E-type dates back to February 1963 and the intended 18-car 'Special GT E-type' race car project from that time. Only 12 of the 18 were built and delivered by the Browns Lane competitions department between 1963 and 1964, which gave rise to the infamous 'Missing Six'.

These missing chassis numbers – 13 to 18 – were found in 2014, and so the modern-day production by Jaguar Land Rover's new Special Vehicle Operations division, Jaguar Classic, got underway.
The modern incarnation of the Lightweight saw Jaguar Classic draw on the company's original 1960s tooling and production methods, as well as it's unique highly experienced engineering and design resources.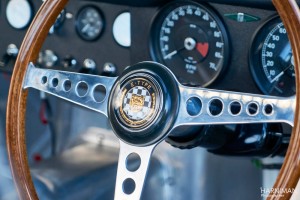 Replete with world-leading aluminium body technology, skilled-hand craftsmanship, the iconic six-cylinder XK engine with its aluminium block, a wide angle aluminium cylinder head and dry sump lubrication (derived from the Le-Mans winning D-type of the 1950s), the 2015 Lightweight E-type is both original and special in every way.
The cars are delivered as period competition vehicles, fully compliant with FIA homologation for historic motorsport purposes. All of the 'Missing Six' are built to period-exact dimensions and specifications, ensuring absolute authenticity and a modern-day build to the highest quality standards.

Trevor Finn, CEO of Stratstone's parent company Pendragon PLC, said: 'Our intention for this very special Jaguar is that it will serve as a living and dynamic ambassador for Stratstone across the UK and Europe. A passion for cars and motorsports is ingrained at the heart of Stratstone and its illustrious heritage.
'This car brings its own legacy and we're delighted to be a part of its story. It was a pleasure to have the chance to work with Jaguar Special Vehicle Operations and we're proud and privileged to have been successful in securing one of the 'missing six'. We want E-type 15 to be the UK's E-type and the plan is to give as many people as possible the opportunity to see it in a variety of locations.'
Handing over the keys to Chassis Number 15 at an exclusive event in Mayfair, MD of Jaguar Land Rover Special Operations John Edwards added: 'Special Operations' remit is to indulge our most discerning and enthusiastic fans' passion for our cars – and I think it is safe to say, given our 30-year history together, that Stratstone certainly fits that criteria.
'The E-type is an iconic car, especially in London, so to be able to complete this intended production run of 18, some 50 years after the first Lightweight was completed, and to deliver it to its new home right here in the heart of the capital, is really something quite special.'
MORE: Specialist sportscar maker raises funds for expansion
MORE: Profit figures show UK dealers had their best ever month in March
MORE: Used car successes a highlight as revenue and profits climb at Cambria
On SuperUnleaded.com: Road Rage Gets Out Of Hand, Biker Loses Out