YOUNG supercar fanatic Ollie Vanstone was granted the ride of his life when he finished school for the holidays last week.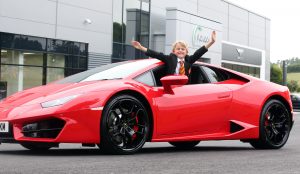 Thanks to a showroom in Bristol, a Lamborghini Huracan was waiting for him outside the school gates,  before transporting him back to base for a tour of some of the world's most exclusive cars.
Schoolboy Ollie, aged nine, is a pupil at St Ursula's E-ACT Academy in Westbury-on-Trym. As a bit of a petrol-head, he wrote to the new Rybrook Specialist Cars dealership on Cribbs Causeway to ask if he could sit in one of their finest supercars.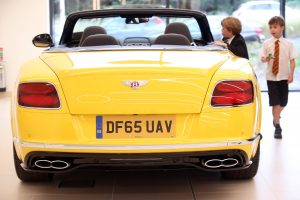 But the team at Rybrook went one better. Liaising with his school and parents, they arranged to carry out his after school pick-up run, taking him back to the showroom, which sells McLarens, Bentleys, Rolls-Royces and Lamborghinis.
No one was left out, either; as Ollie was driven away in a flame red Lambo, his friends Lauchie Young, Sid Scannell and brother Ben were taken out in a Bentley Flying Spur.
Vanstone told the Bristol Post: 'This has probably been the best day of my life.
'I love supercars, and the Lamborghini Huracan is my new favourite car in the world!'

Mark Borwick, head of business at Rybrook, added: 'It has been a pleasure to host Ollie and his family and friends at Rybrook.
'A lot of the time, supercars are only ever associated with the rich and famous, but there's no reason you can't be captivated by them even if you can't yet own one.
'It's exciting to be able to open this Rybrook showroom in Bristol, and we hope that just like Ollie, everyone who walks through these doors will be equally amazed by the incredible cars we have on sale here.'
MORE: Renault celebrates success in Auto Express Driver Power survey
MORE: Citroën sites rebranded as Robins & Day outlets
MORE: HR Owen opens the UK's only Bugatti showroom in London
On SuperUnleaded.com: Prepare Yourselves: Backwards Drag Racing Is Here – And It's Awesome