HR OWEN'S Supercar Sunday event brought one of Mayfair's most famous streets to a standstill, with owners and enthusiasts touching down at Rolls-Royce Motor Cars London in Berkeley Square to celebrate the group's most exciting models.
More than 50 of the best supercars in the world were on display in Mayfair from across H.R. Owen's high-end brand network.
The leading luxury dealer group deals with some of the biggest and most desirable marques in the business, including BAC, Maserati, Rolls-Royce, Bugatti, Aston Martin, Ferrari, Bentley and Lamborghini.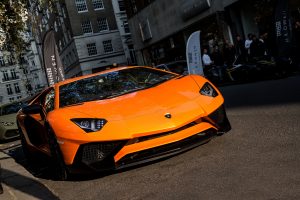 Naturally, spectators gathered in their hundreds to get a glimpse of the remarkable models on display, which included the new Lamborghini Aventador and the Ferrari California T.
The Aventador and six other models were brought to Berkeley Square by Lamborghini Pangbourne, which hosted a Drive Out event in the morning from its Berkshire location to Mayfair.
Upon arrival at Rolls-Royce Motor Cars London, H.R. Owen's guests enjoyed coffee and breakfast before meeting with fellow supercar lovers to talk all things automotive.
Over 300 attendees of all ages were on location in Mayfair, with younger supercar fans sitting in the stunning models and enjoying a tour of the showroom.

From taking the driver's seat of a Rolls-Royce Dawn to sitting in the back of a Ghost, guests were given full licence to roam at one of the most lucrative dealerships in the UK.
Claus Anderson, brand director of HR Owen Rolls-Royce, said: 'Supercar Sunday was a hugely popular and enjoyable event for everyone involved.'
MORE: Skoda shakes up used car buying process
MORE: Dieselgate: £12bn settlement of claims against VW in America
MORE: Site acquired for new Lookers dealerships in Glasgow
On SupreUnleaded.com: Man Arrested For Blocking Traffic While Dressed As A Tree