SUZUKI Ireland's largest standalone dealership has opened in County Dublin.
The site at Airside Motor Park in Swords is the 21st showroom for Suzuki in Ireland.
The seven-car dealership is part of Ashley Motor Group and has been fully refurbished to create a contemporary setting. It houses the full line-up of Suzuki models, all of which are available for test drives. In addition, there are a number of approved used cars on the forecourt.

A team of staff with expert knowledge of the products has been appointed and the site also serves as a Suzuki service centre, offering routine maintenance and national car tests, with a fleet of courtesy cars for customers while their vehicle is being worked on.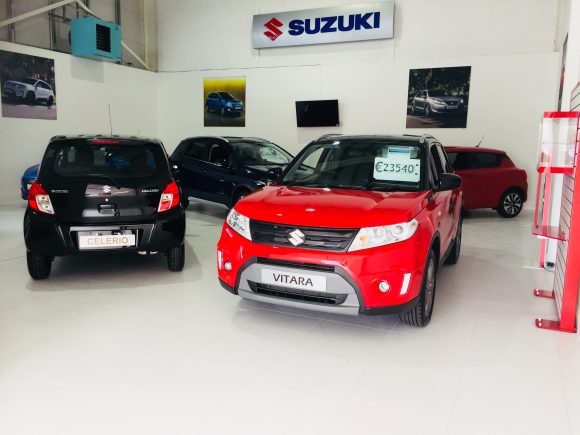 Customers can get fresh pastries and refreshments in the hospitality lounge, and there's a children's play area as well.
Dale Wyatt, director of automobile at Suzuki GB, said: 'Airside Motor Park is one of the busiest vehicle retailing hubs in Dublin, and is therefore a prime location to expand Suzuki's presence in the region.
'With the Ashley Group bringing over three decades of expertise and know-how in the sector, this is invaluable to help communicate the multiple benefits that the Suzuki product range offers to today's motorists.

'We are delighted to have Airside Suzuki on board, and we look forward to working closely with the business.'
Pat Devitt, brand manager for Airside Suzuki, said: 'We are proud to have created a showroom which promotes the very best that the Suzuki brand has to offer, coupled with a relaxing environment away from the hustle and bustle of the motor park, where customers can take the time to choose a car that is right for them.
'Furthermore, with the arrival of the eye-catching third-generation Swift Sport, it's perfect timing to have joined the retail network. We have already welcomed a number of customers since opening our doors, which is a very encouraging start.'
MORE: Suzuki axes Ant and Dec £20m advertising deal
MORE: Glyn Hopkin opens third Suzuki showroom
MORE: Hendy Group chooses Crawley for second Suzuki franchise
On WorkshopMagazine.co.uk: Delighted Rolls-Royce customer shows his appreciation with cake