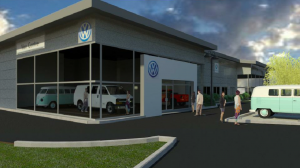 THE family-owned and run Swansway Group is to totally rebuild its Honda dealership on Queensway in Rochdale.
The whole site is to be re-developed giving the town, not only a brand new state-of-the-art Honda centre, but also, an all-new Volkswagen Van Centre (pictured).
Group Director Peter Smyth said: 'There are a lot of exciting new Honda products on the way, so we decided the time was right to build a fresh new dealership to showcase the cars, here in Rochdale.'

Swansway, winners of the Volkswagen Commercial Vehicles Retail Group of the Year Award 2014, decided that whilst re-developing their existing Honda site in Rochdale they would also develop a new-build Van Centre.
Peter added: 'We're looking forward to expanding our Volkswagen commercial vehicle operations into north Manchester. Swansway has four Volkswagen Van Centres in other areas and it's particularly exciting to move into Rochdale on the back of our big win.
'As a group we strive to provide our customers with a level of service which keeps them coming back for more; this new Honda centre will definitely help us deliver the very highest standards of customer service.'
Swansway will break ground on their £3.5 million venture in October 2015 with the new centres due to open late June 2016.

MORE: Using an automated telephone service could be costing you sales
MORE: Arrow Hyundai businesses sold to Hutchings Motor Group
MORE: Vertu spends £8m to buy two more dealerships
On SuperUnleaded.com: We tag along for a shift with motorcycle cops